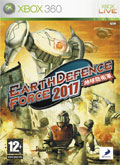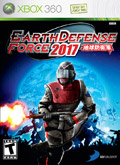 TITLE Earth Defence Force 2017
GENRE Action
PLATFORM XBOX360
DEVELOPER Sandlot
US PUBLISHER D3 Publishing
UK PUBLISHER D3 Publishing
NORDIC PUBLISHER D3 Publishing
ONLINE PLAY Yes
Media Screenshots:
SCREENS ADDED: 12 Feb-2007
Videos:
Official Fact Sheet:
The Earth Defence Force needs you! Planet Earth is under attack from alien invaders and the Earth Defence Force (EDF) is the only chance for survival. Earth Defence Force 2017 lands players on the front lines of an onslaught of alien invaders with non-stop swarms of hundreds of enemies on screen at once.
The arcade-style third-person shooter equips players with an arsenal of weapons, vehicles and loyal team mates in order to defeat a wide variety of attackers ranging from giant ants and spiders to robots and monsters standing more than 20 stories tall. Players have more than 150 weapon variations to choose from including assault rifles, rocket launches and flamethrowers and the support of AI-controlled Earth Defence Force team mates who will battle beside them throughout the game?players can also join forces in co-op mode and battle together.
With more than 50 missions to complete and a seemingly endless barrage of attackers, the Earth Defence Force has their work cut out for them. Fighting within a wholly destructible environment where bridges, skyscrapers and other structures can just as easily be destroyed by friend or foe, players can either save their world or demolish it in the process.
Epic Battles Against Hordes of Alien Invaders – Players will face off against a wide variety of attackers ranging from giant ants and spiders to robots and monsters standing more than 20 stories tall. With non-stop swarms of literally hundreds of enemies on screen at once, these chaotic battles are like nothing you have ever played.
A Mighty Arsenal of Weapons of Mass Destruction – You will be armed to the teeth with 7 types of destructive weapons with more than 150 variations – assault rifles, rocket launchers, flamethrowers, grenades and more.
More than 50 Missions – Engage the enemy in more than 50 all-out battles. Battle alongside your EDF squad through city streets, underground caves, coastal zones and more to repel the alien attackers on all fronts.
Military Vehicles at your Command – Take control of battle tanks, armoured mechs, attack helicopters and hover bikes to help complete your mission.
No Man Fights Alone – Though the odds may seem impossible, you are not alone. Fighting by your side are your AI controlled EDF team mates. This crew of soldiers will fearlessly charge into battle and assist you throughout the game.
Team-up for Victory – Join-up with a friend in co-op mode and work together to battle your way through the alien swarms
Completely Destructible Environments – As you battle the alien invaders stray shots will bring down skyscrapers, bridges and other structures. Will you cause more destruction than the invaders?