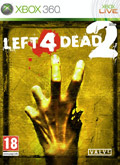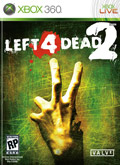 TITLE Left 4 Dead 2
GENRE FPS
PLATFORM XBOX360
DEVELOPER Valve Software
US PUBLISHER Electronic Arts
UK PUBLISHER Electronic Arts
NORDIC PUBLISHER Electronic Arts
ONLINE PLAY Yes
Media Screenshots:
SCREENS ADDED: 08 Oct-2009
Videos:
Official Fact Sheet:
The sequel to the critically acclaimed Left 4 Dead, Left 4 Dead 2 takes play in the deep South of the USA. Set in a modern day survival-horror universe, the co-operative gameplay of L4D casts four "Survivors" in an epic struggle against hordes of swarming zombies and terrifying "Boss Infected" mutants. Left 4 Dead 2 adds melee combat to enable deeper co-operative gameplay, with items such as a chainsaw, frying pan, axe, baseball bat, and more.
Introducing the AI Director 2.0, L4D's dynamic gameplay is taken to the next level by giving the Director the ability to procedurally change weather effects, world objects, and pathways in addition to tailoring the enemy population, effects, and sounds to match the players' performance. The result is a unique game session custom fitted to provide a satisfying and uniquely challenging experience each time the game is played.
Featuring new Survivors, boss zombies, weapons, and items, Left 4 Dead 2 offers a much larger game than the original with more co-operative campaigns, more Versus campaigns, and maps for Survival mode available at launch.
Co-operation of the Dead: The fan favourite co-op shooter returns with five brand new campaigns and a more detailed story.
Survival equipment: Wield new melee weapons, including axes, baseball bats and a chainsaw -or make use of the new assault rifle or silenced machine gun.
Mutant evolution: Face off against new mutant types, including the fast moving Charger, the new Wandering Witch and fire resistant zombies.
Virtual Spielberg: Revamped AI director watches how you play and increases or decreases the challenge accordingly, even altering the layout of the levels as it sees fit.
Team works: Four new characters to play as: TV reporter Rochelle, mechanic Ellis, conman Nick and an American football school coach known simply as? Coach.