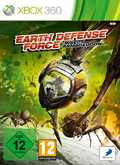 TITLE Earth Defense Force: Insect Armageddon
GENRE Action
PLATFORM XBOX360
DEVELOPER Vicious Cycle
US PUBLISHER D3 Publishing
UK PUBLISHER D3 Publishing
NORDIC PUBLISHER D3 Publishing
ONLINE PLAY Yes
Videos:
Official Fact Sheet:
The bugs are back in Earth Defense Force: Insect Armageddon, the most concentrated insect invasion the world has yet to encounter. Mankind faces the end of human civilization at the hands (or claws) of thousands of gigantic bugs unless the elite Earth Defense Force can stop them! Earth Defense Force: Insect Armageddon is a completely new video game developed by Vicious Cycle that expands the Earth Defense Force 2017 universe (Japanese Title "Earth Defense Force 3" developed by SANDLOT) and continues to follow the rich history of fun and addictive gameplay that makes the franchise a cult classic.
Insect Armageddon is set in New Detroit and features a Campaign mode that lets up to three players team up online to battle the insects and aliens across the completely destructible city. The nonstop action gameplay in Insect Armageddon is the fastest and deadliest in the series. To arm their EDF soldiers, players must cash in points to collect over 150 unique weapons and four upgradeable armor sets. In addition, the game also features a six-player Survival mode that pits a human squad against a nonstop onslaught of the largest enemies the aliens have to offer. New Detroit's giant bug problem is unavoidable, and mankind's last hope lies with the Earth Defense Force to defend the world from the insect swarm, even if it means blowing up the entire city as part of the extermination process.
Epic Battles Against Hordes of Insect and Giant Alien Robot Invaders: Players will face-off against non-stop swarms of attackers ranging from giant ants and spiders to robots standing more than 100 meters tall for the most outrageously destructive battles ever seen before.
Three-Player Online Co-op Campaign Mode: Play online as a co-op squadron and work together to battle through the alien and insect swarms for world supremacy!
Over 150 Weapons and Four Upgradeable Armor Types: Battle alongside an EDF squad through New Detroit armed with four upgradeable armor types and over 150 unique weapons including assault rifles, rocket launchers, energy weapons, sniper rifles and grenade launchers to repel the bug infestation from all enemy fronts.
Completely Destructible Environments: Do whatever it takes to defend the earth. Use mortars and grenades to tear down entire city blocks from skyscrapers down to hot dog stands as you try to keep the insect invasion from infesting New Detroit.
Six-Player Online Survival Mode Multiplayer Battle: Be victorious in an all-out fight to the finish in Survival Mode where up to six players are deployed to clash against an endless swarm of enemies that gets tougher with each wave.