Big robots exist to crush things.  This fact is well-known.
Armored Core 5 – the latest and greatest in the long-running mech-battle series – understands this principle, and is dedicated to the corollary that if Big Robots Crushing things is fun, then logically, Many Big Robots Crushing Things equals Many Funs.  Much fun.  It would be cool.  I'm inclined to agree, but naturally open to putting this idea to the test of execution.
Mutiplayer is the big new addition to Armored Core 5.  My, my, it seems like everything is getting online these days.  Even Mass Effect has a multiplayer mode now.  Developers are increasingly under the (sometimes unfortunate) assumption that whoever is playing a game has a stable internet connection handy as a matter of course.  This is partly our fault for putting up with things like Steam, which don't like to let us actually play the games we bought if, say, a storm brings down some telephone/cable lines, and we don't also happen to pay hundreds of dollars a year to have a satellite back up – just in case!  They figure we love the internet so much, we wouldn't dare try to have fun on computers unless we could share it with the world.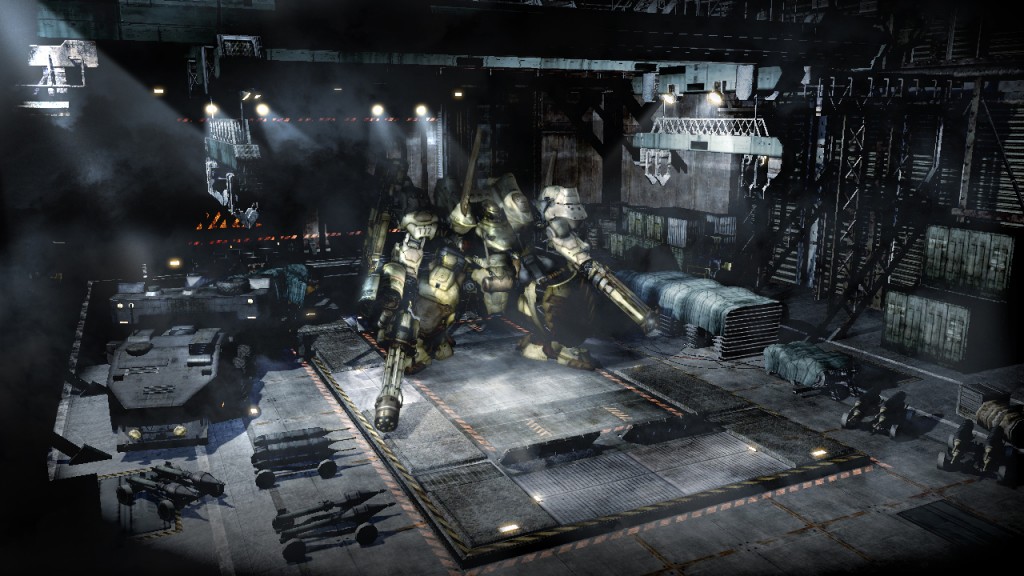 They are pretty wrong, but Armored Core co-opts this assumption about, and asks aloud, "What do we do about all the people playing Armored Core 1-4 single player?" (For those keeping score, that's every single person playing AC 1-4.)  "They are way antisocial.  They are having the Many Funs without internets!"  That won't do.  So now during single player missions, your choice of side adds to the overall betterment or detriment of everyone playing actual multiplayer AC5 online, which revolves around taking and holding territory.  All your fights help one side increase the amount of territory it controls.  So watch your ass!  Every time you suit up, it's "for real," soldier.
The mechs this time are smaller, with the focus of combat being less on outright walloping everything in sight and more on utilizing terrian to your advantage.  Tactical prowess will make the different between wins and losses, as wellas the better than 500 upgrades.  This isn't disturbing in and of itself, although I have to say that the bigness of Big Robots is a large part of their appeal, and if these mechs were downsized because you cant have a 64-player team game of skyscrapers walking around punching each other, that's lame.  Stop messing with my enjoyment of big robots by making me do it online all the time, is what I would say in that case.  Nevertheless, there appear to be several modes for play besides the traditional one-on-one (or several-on-several) slugfest, including a "gauntlet mode where opposing players will be able to run missions you design, gaining some of that all-important map real estate if they succeed.  The proof is going to be in the punching – the giant robot punching – on this one, so until the full release, I'll continue to salivate until its proven I should do otherwise.