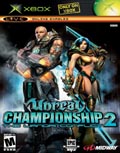 TITLE Unreal Championship 2: The Liandri Conflict
GENRE FPS
PLATFORM XBOX
DEVELOPER Epic Games
US PUBLISHER Midway
UK PUBLISHER Midway
NORDIC PUBLISHER Midway
ONLINE PLAY Yes
Media Screenshots:
SCREENS ADDED: 11 May-2004
Official Fact Sheet:
?Unreal Championship 2: The Liandri Conflict? brings the ?Unreal Championship? franchise to Xbox and Xbox Live with bold enhancements to single and multiplayer gameplay including all new super-agile player acrobatics, third-person camera mode, vehicles and intense melee abilities. ?Unreal Championship? fans can play as any one of 14 characters from the ?Unreal? Universe, each with spectacular new Adrenaline powers that enable new offensive and defensive combos.
Bone-crunching melee combat. For the first time in an ?Unreal? franchise game, players can battle using hand-to-hand weapon combat seamlessly melded with Unreal?s trademark fast-paced shooter action.
Unprecedented player mobility. Combat takes on a whole new dimension. New third-person navigation makes it easy for players to pull off incredible acrobatic combo-moves. Levels are designed to allow the players to take maximize their movement skills and take combat to a high-flying vertical level, never seen before in an action shooter.
Adrenaline Powers for fighting. New Adrenaline Powers enable players to deflect projectiles and invoke powers for new offensive and defensive tactics.
Unparalleled multiplayer action. The ?Unreal? experience is optimized for Xbox Live, enabling players to take on adversaries from around the world. System Link provides the ability to play against others by directly linking Xbox consoles.
Intense single-player excitement. Players are immersed in a two-part, single-player tournament experience that allows the player to take on the role of a variety of uniquely-skilled characters, as well as the role of heroic Anubis as he fights to reclaim his people?s Rite of Ascension tournament from the omnipotent Liandri Corporation.