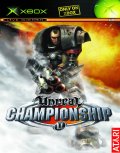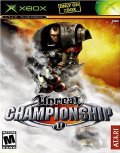 TITLE Unreal Championship
GENRE FPS
PLATFORM XBOX
DEVELOPER Digital Extremes
US PUBLISHER Atari
UK PUBLISHER Namco Bandai Partners (Atari)
NORDIC PUBLISHER Namco Bandai Partners (Atari)
ONLINE PLAY Yes
Media Screenshots:
SCREENS ADDED: 24 Sep-2002
SCREENS ADDED: 14 Aug-2002
Official Fact Sheet:
Built by Digital Extremes, part of the team responsible for Unreal and Unreal Tournament, Unreal Championship is introducing groundbreaking multiplayer gameplay to the Xbox video game system from Microsoft.
The latest addition to the Unreal universe will immerse console gamers in the adrenaline packed first-person frag-fest that has revolutionized PC gaming. Designed specifically for Xbox and the Xbox controller, Digital Extremes has incorporated console-specific features such as joypad-activated special moves, double jump, power-ups, unlockable features and more to keep gamers glued to their couches with knuckle-whitened tension.
Unreal Championship uses the latest Unreal technology created by Epic Games to render the most amazing graphical effects seen on any console to date. The game combines a brilliant single player experience with an unparalleled multi-player component — players can fight through a series of matches in the single player mode against computer-controlled opponents (bots) or play online against human-controlled adversaries.
Enter combat on foot or aboard brand new land and air-based vehicles ? carnage at break-neck speed!
Go online with Microsoft?s broadband gaming network and take on or join up with up to 16 other players per arena in fearsome head-to-head combat
Incredible weaponry that goes beyond mere blasting ? use strategy and skill to outwit and out-maneuver the enemy
Take on 6 different races featuring over 25 highly individual characters in over 30 maps
The power of Xbox and the cutting-edge Unreal graphics engine combine to deliver awe-inspiring, breath-taking visuals
A dynamic and realistic world – sophisticated in-game physics do away with ?out of the can? animations and movement
Special Moves ? a new concept to first-person shooters that adds a new level of skill and unpredictability