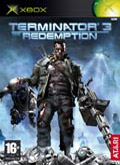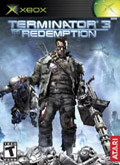 TITLE Terminator 3: Redemption
GENRE Action
PLATFORM XBOX
DEVELOPER Paradigm
US PUBLISHER Atari
UK PUBLISHER Namco Bandai Partners (Atari)
NORDIC PUBLISHER Namco Bandai Partners (Atari)
ONLINE PLAY No
Media Screenshots:
SCREENS ADDED: 06 Dec-2005
Official Fact Sheet:
Terminator 3: The Redemption will take players for a thrill ride into the post-apocalyptic universe as they play the series' signature icon, Arnold Schwarzenegger. Featuring Arnold Schwarzenegger's voice and likeness, Terminator 3: The Redemption will surprise players with innovative and exciting gameplay presented in a number of different styles utilising vehicles and machines straight from the Terminator universe, pitting the Terminator against numerous ground and air-based enemies.
Terminator 3: The Redemption will feature high intensity arcade style vehicle combat and character based missions from a third-person perspective. The Redemption is presented in a massive and diverse Terminator world, allowing the player to experience gameplay through three distinct timelines. Gamers will see the world of Terminator like never before – they will go places and do things that have only been hinted at in the films, including a futuristic world where Sky Net has defeated the human resistance.
14 single player levels in a variety of highly detailed, photorealistic environments.
Co-op gameplay allowing friends to protect resistance forces on the ground by blasting Skynet opponents from the air.
Fight as the Terminator in third-person, adrenaline rush driving action, which takes place in current day Los Angeles and devastated future Los Angeles, as well as alternate future scenarios.
Engage in classic Terminator combat – rip out opposing Terminator's power cells and use them as high-powered explosive devices; use dismantled Endoskeleton torsos as shields; pick-up objects in the environment and pummel opponents with them; or simply smash opponents to pieces with metal-bending hand-to-hand moves.
Command any vehicle on the battlefield. Leap from vehicle to vehicle and seize control of Sky Net or Tech Com weapons of war.
Experience "Terminator Moments," which reward the player with cool "only Terminator" action shots for executing risky moves or finding short-cuts.
Utilise vehicle weapons for enhanced Terminator combat, including Tech Com truck-mounted laser cannons and helicopter-mounted chain guns as well as advanced Sky Net weapons attached to Future Killer robots, tanks and hovercraft.
More than 15 minutes of actual movie footage taken straight from the Hollywood blockbuster Terminator 3: Rise of the Machines.