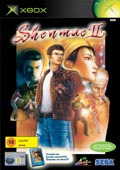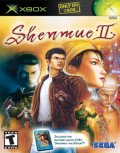 TITLE Shenmue II
GENRE RPG
PLATFORM XBOX
DEVELOPER SEGA-AM2
US PUBLISHER Microsoft
UK PUBLISHER Microsoft
NORDIC PUBLISHER Microsoft
ONLINE PLAY No
Media Screenshots:
SCREENS ADDED: 15 Aug-2002
Official Fact Sheet:
Shenmue II is an epic adventure with all the elements of a great movie: drama, mystery, suspense and action. It offers a unique game-playing experience that seamlessly blends elements of action, adventure, fighting and role-playing games. In Shenmue II players assume the role of Ryo Hazuki, a young man dedicated to the task of tracking his father?s murderer and unlocking the mysteries of the Phoenix Mirror. Shenmue II continues where Shenmue I left off, bringing Ryo to Hong Kong with many unanswered questions as he follows the trail of Lan Di, the man who killed his father.
A fully immersive world. The world of Shenmue II is alive with bustling Hong Kong activity. Day gradually turns to night and back to day. Clouds move across the sky, and sunshine changes to rain. People fill the streets as they go about their daily activities.
Complete freedom to explore. Players are free to explore and ?live? in Hong Kong. They can work, sleep, move about, fight, gamble and engage in many other activities. The streets are filled with virtually thousands of fully interactive characters.
Solid 3-D fighting. Created by the same group that developed ?Virtua Fighter,? ?Shenmue II? includes an advanced fighting system with more than 50 punches, kicks, holds and combos; it is the most-developed fighting system for a nonfighting game.