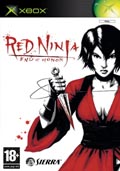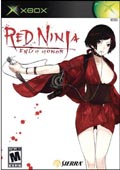 TITLE Red Ninja: End of Honor
GENRE Fighting
PLATFORM XBOX
DEVELOPER Tranji
US PUBLISHER Vivendi Games
UK PUBLISHER Vivendi Games
NORDIC PUBLISHER Vivendi Games
ONLINE PLAY No
Media Screenshots:
SCREENS ADDED: 30 Mar-2005
Official Fact Sheet:
Japan in the1500's, the power of the samurai class is fading and the use of the Ninja has become necessary to hold any political power in this chaotic time. Kurenai a young girl who?s world is destroyed when she and her father are attacked by the deadly Black Lizard Clan, who captures her and brutally hangs her by a wire and left to die. Miraculously, she survives and is rescued and adopted into a clan where she obtains complete mastery of her unique weapon, the wire. Kurenai has pledged her undying loyalty to her new family. She now lives to avenge her father?s death and will go to any means necessary to destroy the Black Lizard Clan.
Revolutionary wire weapon, the Tetsugen, where the functionality of the wire is determined by the end attachments and length and strength of wire which creates dynamic gameplay that combines action, adventure and stealth
Beautiful, large environments and event driven storyline, written by Shinsuke Sato, a feature film writer/director from Japan
Use Kurenai's self-dislocation ability in various escape efforts
Escape enemies by using the traditional ninja art of disguise
Use your womanly wiles to entice and distract your enemies
Control and manipulate assailants with various Ninjutsu powers
Choose how you will destroy your enemy by using numerous additional weapons like blowguns, smoke bombs and rocket explosives