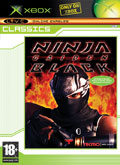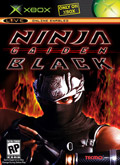 TITLE Ninja Gaiden: Black
GENRE Fighting
PLATFORM XBOX
DEVELOPER Team Ninja
US PUBLISHER Tecmo
UK PUBLISHER Microsoft
NORDIC PUBLISHER Microsoft
ONLINE PLAY Yes
Media Screenshots:
SCREENS ADDED: 20 May-2005
Official Fact Sheet:
Ninja Gaiden, the commercial and critically acclaimed cut and slash action game, took the action genre by storm with its unique and innovative game play, killer story and mind-blowing graphics. Now gamers can experience even more of Ryu Hayabusa's deadly artistry in Ninja Gaiden BLACK, the newest installment in the Ninja Gaiden series, slashing its way to the Xbox video game console this September 2005 as it ships to retailers nationwide. Boasting new difficulty levels including "Ninja Dog" level and "Master Ninja" level, the new Mission Mode with a massive number of new action-packed missions to complete, and colossal amounts of special bonus features including content from both Hurricane Packs 1and2, the new Ninja Gaiden: BLACK is the must have game for all action lovers from casual to hardcore.
Compatible with Xbox Live: Karma scores can be uploaded to the online leader boards via Xbox Live
Increased Levels of Difficulty: Five levels of difficulty for all kinds of gamers including "Ninja Dog" to "Very Difficult Master Ninja"
Increased Action-Packed Missions: Play in Story mode or Mission Mode with a massive number of missions to complete, including traditional enemy battles, time challenges, boss battles and more!
Challenging Hurricane Packs Content: Content such as new enemies and big, bad bosses from Hurricane Packs 1and2 included as special bonus for an extra ninja challenge.
Never-Before-Seen Content: New cinematic cut scenes that reveal secrets from the world of Ninja Gaiden.
Jaw-dropping Sounds and Graphics: Stunning graphics and incredible sounds as you would expect from Tecmo's esteemed development team, Team NINJA
Colossal Amounts of Bonus Content: Hidden unlockables including the original arcade version of Ninja Gaiden, Ninja Ryukenden, available for the first time on a video game console in Ninja Gaiden: BLACK.