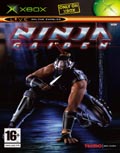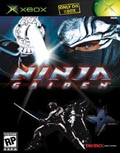 TITLE Ninja Gaiden
GENRE Fighting
PLATFORM XBOX
DEVELOPER Tecmo
US PUBLISHER Tecmo
UK PUBLISHER Tecmo
NORDIC PUBLISHER Tecmo
ONLINE PLAY Yes
Media Screenshots:
SCREENS ADDED: 11 Aug-2003
SCREENS ADDED: 03 Jul-2003
Official Fact Sheet:
One of gaming?s most esteemed franchises is given new life by the power of Xbox! Ninja Gaiden is a cutting-edge action game that lets you take the role of a powerful ninja, Ryo Hayabusa, as he seeks to take revenge for his family?s death. Taking full advantage of three-dimensional space, you follow the story with only your wits, your ninja skills, and your deadly sword, cutting down opponents in the Vigor Empire as you attempt to beat the Holy Emperor and reclaim the magic sword ?Ryuken?. Realistic battle actions and acrobatic ninja actions add another dimension to the game, restoring Ninja Gaiden to its rightful place in the gaming pantheon.
Increasing skills and new weapons. As you progress through the game your skills will be rewarded with new weapons to fight your opponents and the better you beat your enemies the better you will become, unlocking new combinations and skills. Wit and skill are also rewarded as the way you play and decisions you make affect the weapons and skills you can acquire.
Amazing next-generation visual effects. Gamers witness an amazing level of detail as they take on their opponents in a variety of environments. You?ll hear the swords slicing the air and jump as gouts of blood pulse out from vanquished enemies. Beautifully rendered graphics, amazing effects and realistic combat bring Ninja Gaiden to life.
Multiple modes. In addition to the main Story Mode, gamers can enjoy a series of mini-games which can be completed in a shorter time. Gamers that clear Ninja Gaiden?s Story Mode will unlock a hidden mode
Twenty challenging levels to complete. Your ninja skills will be put to the ultimate test as you battle through twenty levels in your mission to avenge your family.
Continual gameplay. Once you embark on your role as a ninja hero you never have to stop – the Xbox allows you to quit the game at any time and re-start at the very same point.