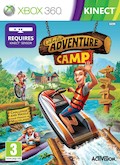 TITLE Cabela's Adventure Camp
GENRE Entertainment
PLATFORM XBOX360
DEVELOPER To Be Announced
US PUBLISHER Activision
UK PUBLISHER Activision
NORDIC PUBLISHER Activision
ONLINE PLAY TBA
Videos:
Official Fact Sheet:
Cabela's Adventure Camp is equal parts summer camp, theme park, and sensational fun. This party game for the great outdoors delivers family fun that is designed to get players up and moving. This pick-up and play title is engaging and exciting entertainment suitable for kids of every age. Be prepared to set up camp in the living room and get ready for some serious adventure!
Varied and Exciting Activities: Eight different exciting activities that kids of ALL ages will love. Players will have to move, dodge and jump as they compete in activities made for the great outdoors. Events include: Thrill Hill Biking, Wild River Kayaking, Archery Arcade, Full Throttle Wave Riding and many more!
Interactive Griefing: Idle friends and family members can control objects in the game environment with the devious goal of psyching out the current player. A little friendly competition is always healthy!
Movement Controls Made Easy: Accessible for the whole family, the movement controls are maximized for ease and entertainment! From your grandma to your little sister, everyone and anyone can jump in and start having fun! From the Wiimote to the Move and Kinect, it'll be fun on any system of your choice!