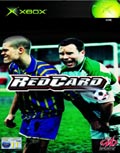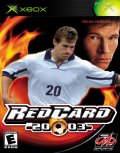 TITLE RedCard 20-03
GENRE Sport
PLATFORM XBOX
DEVELOPER Point of View
US PUBLISHER Midway
UK PUBLISHER Midway
NORDIC PUBLISHER Midway
ONLINE PLAY No
Media Screenshots:
SCREENS ADDED: 19 Mar-2005
Official Fact Sheet:
RedCard Soccer is a unique entry into the soccer genre, with an authentic combination of soccer action, lightening-fast gameplay, stunning next-generation graphics and intense adrenaline-style gameplay. Emphasizing the most popular aspects of professional soccer, RedCard Soccer features 32 international teams, stadiums and rabid soccer fans from around the world. Players engage in bone-crunching slide tackles and spectacular over-the-top animated moves including bike, flip and scissor kicks and ankle-breaking dekes and jukes. Players can also raise the team's momentum and add increased attributes while an aggressive player AI offers loads of scoring opportunities and penalties.
11-on-11 ? Every team is given 11 (including goalies) athletes, each with the ability to be under the player's control, one at a time
Adrenaline-style Gameplay ? RedCard Soccer combines authentic soccer action with over-the-top gameplay
32 international teams compete for the ultimate championship while wild soccer fans cheer them on
Easy to Learn ? A context sensitive control system that allows players to utilize more controller buttons when they become more comfortable with the game's controls
Rewards/Power-ups ? Skilled players can unlock modes, teams and stadiums, and uncover the hidden power-ups to enhance the game and add replay value
Extreme Animations ? All different types of exaggerated kicks including bike, flip and scissor kicks, as well jukes, dekes and quick passing from feet to heads
Stadiums ? Visually stunning environments with realistic texturing
Momentum ? Players have the ability to raise the team momentum for limited amounts of time.
Player Attributes ? Players possess ratings and attributes matching their physical size and abilities
Three Gameplay Modes ? Friendly Mode, Tournament/Party Mode and Cup Mode
Create-a-Team ? Players create their own custom super-team by choosing players from different countries
<!-comments-button-->