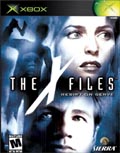 TITLE X-Files: Resist or Serve
GENRE Action
PLATFORM XBOX
DEVELOPER Black Ops
US PUBLISHER N/A
UK PUBLISHER N/A
NORDIC PUBLISHER N/A
ONLINE PLAY No
Media Screenshots:
SCREENS ADDED: 15 May-2003
Official Fact Sheet:
The fear begins when Mulder and Scully travel to the small Rocky Mountain town of Red Falls to investigate a string of unusual murders linked to ghost sightings, the undead, and other paranormal phenomena. Mulder and Scully must pursue an inhuman killer to a secret research facility in the Siberian wasteland and finally into the depths of a buried alien spacecraft to unravel the mystery of the black oil and prevent the alien colonization of the planet…for now.
Maintaining the authenticity of The X-Files, the game features familiar environments and characters faithfully recreated from The X-Files television show, including Mulder, Scully, Skinner, the Cigarette-Smoking Man, The Lone Gunmen and more. The X-Files: Resist or Serve takes the X-Files authenticity one step further by also including the score and dynamic music created by those responsible for the music behind the television show.
The game plays out over three X-Files episodes (each complete with a teaser, title sequence, and "To be continued…" endings).
Three unique, action-filled episodes created by the Executive Producers of the X-Files.
Fight to survive inexplicable horrors as Mulder or Scully, each with unique specialties and abilities
X-Files Authenticity: Authentic X-Files characters, voiceovers, music and storylines Terrifying "Jump-out-of-your-seat" scripted events and twisted, fully interactive dream sequences.
Highly interactive, real-time rendered 3D environments.
Unique DVD-style user interface with commentary/interviews from cast, developers.