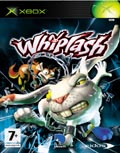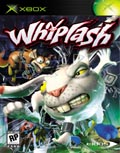 TITLE Whiplash
GENRE Action
PLATFORM XBOX
DEVELOPER Crystal Dynamics
US PUBLISHER Eidos Interactive
UK PUBLISHER Eidos Interactive
NORDIC PUBLISHER Eidos Interactive
ONLINE PLAY No
Media Screenshots:
SCREENS ADDED: 14 May-2003
Official Fact Sheet:
Whiplash provides a groundbreaking approach to the character-based action genre, combining a unique 'chain' gameplay mechanic with in-depth enemy and environment interaction, rich combat and slapstick humour. As Spanx, you will use Redmond (much to his dismay), as your tool and weapon to not only escape, but also to free other enslaved animals and bankrupt the corporation by destroying their property. You can utilise Redmond in many humorous ways such as 'Hare Clog' – clog a toilet with Redmond creating a foul flood to ward off enemies, 'Flaming Fur Ball' – ignite Redmond to scorch attackers and 'Toxic Bunny' – marinate Redmond in toxic waste to poison your foes. Animal anarchy ensues and your fellow buddies are counting on you to save the day!
Whiplash is set in a high-tech product testing facility of a greedy mega-corporation where questionable experiments are conducted on animals. This chaotic adventure stars two animal fugitives, Spanx and Redmond, but with two very different personalities. As a result of extensive electric-shock testing, Spanx is a loose cannon with a crazy streak. Redmond is a smart-aleck rabbit who has been the subject of some embarrassing cosmetics testing. Both characters are trying to escape the lab. There's one problem however – they're chained together!
Utilise Redmond to chain whip attackers, as a grappling hook to swing over hazards, or to helicopter to areas unreachable by foot.
Battle a band of baddies including a giant-syringe toting doctor, an unsanitary surgeon, crooked rent-a-cops, vicious guard dogs and of course, the corrupt CEO.
Free other caged animals that are being used to test new consumer products such as the Self-Operating Table and 'Hair-Go' Hair Removal Kit.
Wreak havoc on the compound by demolishing everything in your path ultimately driving the shady corporation into bankruptcy.
Destroy security cameras, sneak around laser sensors, and access areas unattainable by humans to avoid detection by the ruthless security personal.
In your attempt to flee this high-security facility, you must negotiate a variety of locations including a genetic research lab, a toxic sewer system, lavish executive offices, and much more.
Humour conveyed through interaction between Spanx and Redmond and comical cut-scenes.