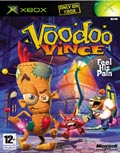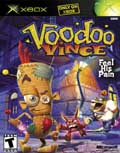 TITLE Voodoo Vince
GENRE Action
PLATFORM XBOX
DEVELOPER Beep Industries
US PUBLISHER Microsoft
UK PUBLISHER Microsoft
NORDIC PUBLISHER Microsoft
ONLINE PLAY No
Media Screenshots:
SCREENS ADDED: 17 Sep-2003
SCREENS ADDED: 13 May-2003
Official Fact Sheet:
"Voodoo Vince" allows players to explore and fight as a tattered but unrelenting voodoo doll as he explores the depths of the Louisiana Bayou full of outrageous levels and over-the-top characters. "Voodoo Vince" is the only game where kicking your own butt leads to victory!
Unlike other games, players must seek out danger to keep enemies at bay. Vince can poke himself with pins, bonk himself in the head with a mallet, or seek out a blazing fire to inflict pain on monsters and villains – all without Vince even batting an eye.
The fantastic French Quarter, crawfish-laden swamps, a funky jazz alley and a network of boggy sewers offer up a host of adventures for the burlap-covered hero. No bayou would be complete without its host of surly characters.
"Voodoo Vince" will encounter everything from Ginger Dead Men who are less than sugar-coated to a pair of intoxicated gas pumps that offer up a fiery challenge.
"Voodoo Vince" offers unbelievably wacky fun for gamers of all ages, taking them on a light and humorous adventure through an exaggerated re-creation of New Orleans. The game offers colossal non-stop action, allowing players to pilot toy airplanes, saddle up on a bucking wild rat, enjoy a high speed ride on a bayou fan boat and navigate a submariner shrimp.