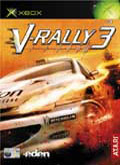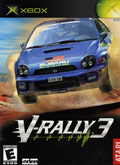 TITLE V-Rally 3
GENRE Racing
PLATFORM XBOX
DEVELOPER Eden Games
US PUBLISHER Atari
UK PUBLISHER Namco Bandai Partners (Atari)
NORDIC PUBLISHER Namco Bandai Partners (Atari)
ONLINE PLAY No
Media Screenshots:
SCREENS ADDED: 28 Jan-2003
SCREENS ADDED: 17 Dec-2002
Official Fact Sheet:
Developed by Eden Games, the V Rally series set the benchmark for rally titles after the massive success of V Rally on PSone in 1997. V Rally 3, the latest installment in this incredibly successful franchise is now coming to PC with amazing new and improved features.
V Rally 3 brings all the realistic burn-rubber rally fun into the comfort of your own home. PC gamers will now have the chance to play with new added gameplay features and graphical tweaks, which make V Rally 3 PC, stand out as the king of the rally genre. Featuring some of the best rally cars in the world, you'll burn across fantastic hand-made tracks through treacherous weather conditions and obstacles to gain the rally crown.
In Career mode, V Rally 3 gives the player the chance to pick the car and team of their choice and race through some of the biggest competitions in rally sport. You can customise your car to suit you and each particular race, check your email in your office as well as sign deals with rival teams and race leaders to eventually rally your way to the top.
"Eden Studios have consistently created year after year some outstanding Rally games and V-Rally 3 PC is no exception. Rally fans are going to love this ultra-realistic PC version, which is going to redefine again what rally driving should be." commented Cyril Voiron, Group Marketing Manager for Europe.
Single races as well as the fantastic involving career mode
48 tracks tracks from all over the world6 countries with extreme driving conditions (safari, snow, mud and tarmac)
6 countries with extreme driving conditions (safari, snow, mud and tarmac)
20 cars with 2 car categories 2.0L and 1.6L and 4 bonus cars to unlock
Official rally cars – Peugeot 206, Subaru Impreeza, Ford Focus etc