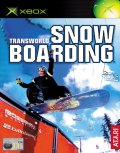 TITLE TransWorld Snowboarding
GENRE Sport
PLATFORM XBOX
DEVELOPER Housemarque
US PUBLISHER Atari
UK PUBLISHER Namco Bandai Partners (Atari)
NORDIC PUBLISHER Namco Bandai Partners (Atari)
ONLINE PLAY No
Media Screenshots:
SCREENS ADDED: 26 Jun-2002
SCREENS ADDED: 14 Nov-2001
Official Fact Sheet:
Welcome to the TransWorld lifestyle. TransWorld Media is a major cultural force in the action sports industry with 15 consumer and trade magazines, six web sites and TransWorld alternative sports events. Infogrames? line of TransWorld games, TransWorld Snowboarding and TransWorld Surf, offer the most compelling gameplay, the best technology, real pros, real tricks, realistic world locations and the best real equipment and gear.
Experience life on the powder in the world of TransWorld Snowboarding. Developed by Housemarque, TransWorld Snowboarding offers go-anywhere, real-world based snowboard levels, intense boarder animations and dynamic crash physics. Treacherous terrain and steep cliffs, modeled after actual slopes from around the world, add to the danger in TransWorld Snowboarding. With rails and downed trees to jib and grind, natural snow kickers and ramps to launch off and multiple half-pipes and quarter-pipes to perform tons of tricks on, TransWorld Snowboarding is action sports gameplay at its pinnacle.
Pro rider styles, special tricks and awesome extra abilities specific to each pro rider
10 snowboarding pros: Tina Basich, Barrett Christy, Andrew Crawford, Kevin Jones, Peter Line, Jussi Oksanen, Todd Richards, Wille Yli-Luoma, Daniel Frank and Nicola Thost
19 locations including USA, Finland, Switzerland, Canada, Germany, France, Austria, Italy, and Japan
Free-ride, Free-style, Slope Style, Straight Jump, Pipe, Boarder X and Career game modes
Amazing visuals including special-effect lighting, shadows, particle effects, bump mapping and anti-aliasing
Perform tricks off of ice blocks, kicker boxes, downed trees, snow plows, tables, rails, half-pipes, quarter-pipes and more
New levels opened by perfecting tricks and getting top scores
Licensed equipment, clothing and accessory sponsors including DC Shoes, Hurley Clothing, Nixon, Oakley, Quicksilver and Volcom and more
Tons of painful wipeouts depending on position and speed
Hidden photographers to capture your best tricks for the TransWorld Snow Magazine cover
The ability to create play-lists from in-game licensed tracks and original game music
One to four player simultaneous play