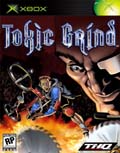 TITLE Toxic Grind
GENRE Sport
PLATFORM XBOX
DEVELOPER Blue Shift
US PUBLISHER THQ
UK PUBLISHER THQ
NORDIC PUBLISHER THQ
ONLINE PLAY No
Media Screenshots:
SCREENS ADDED: 09 Sep-2003
Official Fact Sheet:
In the year 2097, BMX riding has been outlawed and a twisted reality game show is the showcase for public execution of these fugitives. The maniacal host of the show, Dixon Von Blass, has eliminated all but a handful of these riders and resorted to risky time travel technology to pluck new contestants from the past to fuel his gladiatorial exhibition. To ensure that no rider survives the deadly gauntlet, they are injected with a powerful toxin before the show. Jason Hayes, fresh from 2002 is about to give the show its highest ratings as he rides for his life in a world where death equals ratings.
Injected with deadly toxin, ride through 14 sets recreated from famous locations and time periods in the first ever mission-based BMX game. The only way to survive the deadly game show is to complete objectives, avoid deadly obstacles and pull off insane tricks all the while avoiding Dixon's henchmen. Will you be remembered as the savior of BMX or just another rerun?
First ever BMX game with a Storyline: Plucked from the past Jason Hayes must ride for his life in the most extreme reality TV show ever created. The only way to survive is by advancing through the sets and bringing down the all-powerful Dixon Von Blass
Mission based objectives: Complete a multitude of objectives such as finding keys to deactivate bombs, sinking a battleship and destroying a helicopter
Hazards and obstacles: Avoid hazards such as lightning bolts, cannons, and orbs of death.
Variety of levels/time periods: Ride through 14 diverse levels from the past, present, and future including the Sherwood Forest, the ancient Roman Coliseum, and an Underwater Cave
Gameplay modes: Toxic Grind will feature four gameplay modes: Underground ? Ride for your life on the twisted game show Treads of Death Circuit ? Compete against all other characters in the game for the highest score Arcade ? Free ride all of the level unlocked in Underground mode Multiplayer ? Featuring seven different mini games such as HORSE, Turf Wars, and King