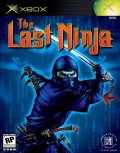 TITLE The Last Ninja
GENRE Action
PLATFORM XBOX
DEVELOPER System 3
US PUBLISHER N/A
UK PUBLISHER N/A
NORDIC PUBLISHER N/A
ONLINE PLAY No
Media Screenshots:
SCREENS ADDED: 26 Mar-2006
Official Fact Sheet:
The game is a unique blend of action, adventure, strategy, exploration, stealth and combat action. Progress through the game has a supporting narrative that clearly defined start and finish conditions for each level and provides help where needed while still giving the player considerable freedom in event execution in order to achieve the required goals.
Last Ninja – The Return is a 3D gaming world that embraces and exemplifies all that is great about 3D gaming, while masking its short-comings. Multiple camera angles, motion captured key animations, sweeping cinematic vistas, environmental dynamics, special effects, some of the best music and 3D sound effects you are ever going to hear. All seamlessly bound together by a compelling narrative and a gameplay and control system designed to allow novice players to get hooked but with a subtlety of play that will satisfy the more experienced player. This is particularly evident in the combat system, which allows players to stamp their own style on it by using almost endless permutations of armed and unarmed moves, stealth tactics and the use of Dragon Magic.
Extensive range of fighting styles; unarmed and armed, long and short weapons, projectile weapons and magical devices will satisfy the most demanding of combat fans while the intelligent control system will still reward the novice player.
Sophisticated combat system allows you to tough-it-out with opponents or use stealth tactics.
Enthralling blend of historical fact, fantasy adventure and Oriental mysticism.
Natural AI behavioral algorithms give a sense of "real life" to opponents, creatures and a sometimes helpful populace.
Attention grabbing in-game cinematic sequences provide a compelling narrative which supports the player in their quest.
Proprietary lighting systems provide maximum visual quality for the backgrounds and characters.
Full 3D collisions allow true interaction with the backgrounds.
Fully scalable, boned animation system which allows any opponent to use animations designed for other creatures in addition to their own unique animations.
High end camera system provides the best view of the action in all circumstances.
Film-like camera system helps move the drama forward.