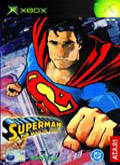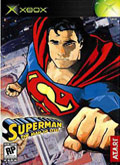 TITLE Superman: The Man of Steel
GENRE Action
PLATFORM XBOX
DEVELOPER Circus Freak
US PUBLISHER Atari
UK PUBLISHER Namco Bandai Partners (Atari)
NORDIC PUBLISHER Namco Bandai Partners (Atari)
ONLINE PLAY No
Media Screenshots:
SCREENS ADDED: 20 May-2002
Official Fact Sheet:
Superman: The Man of Steel is a single-player action game based on the DC Comics Superman universe. Aiming for complete authenticity to satisfy hardcore Superman fans, the story is being developed and written in conjunction with DC Comics. In the game, Brainiac 13 attempts to take control of the advanced technology behind the futuristic Metropolis technology that would enable him to destroy Metropolis and rule the world! Players assume the role of Superman, the Last Son of the planet Krypton, and are charged with protecting the citizens caught within the ensuing chaos, finding the technology to stop the maniacal robots from taking over the city, and defeating the evil masterminds behind the diabolical plot.
The heart-pounding action takes place across vast worlds dripping with true-to-life detail. Superman must battle enemies throughout the massive urban cityscape of Metropolis, light-years from earth in the vacuum of space and in distant locales, such as the mysterious Phantom Zone and Warworld, familiar to fans of the comic series.
As Superman, players will have powers and abilities far beyond those of mortal men, including super strength, heat vision, flight, ice breath, X-ray vision, telescopic vision and more. Players are treated to two unique combat experiences, with intense confrontations taking place both on the ground and in the air. From mid-flight battles with giant robots that are wreaking havoc on Metropolis buildings to engaging in hand-to-hand combat with Brainiac 13?s henchmen threatening citizens on the ground, gamers must use a variety of techniques, including punch combos and super powers, to prevail as the Man of Steel.
In addition to combat missions, gamers must surmount other adrenaline-packed challenges, including damage management, civilian rescue, disaster aversion and other gameplay modes. Brainiac 13 and his minions will do everything in their power to take back the futuristic technology from Metropolis, including damaging buildings, causing train wrecks and placing civilians in mortal danger. It will be up to Superman alone to restore peace within the city of Metropolis, and ultimately, save the world