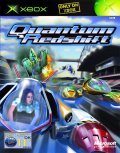 TITLE Quantum Redshift
GENRE Action
PLATFORM XBOX
DEVELOPER Curly Monsters
US PUBLISHER Microsoft
UK PUBLISHER Microsoft
NORDIC PUBLISHER Microsoft
ONLINE PLAY No
Media Screenshots:
SCREENS ADDED: 16 Aug-2002
SCREENS ADDED: 16 Apr-2002
Official Fact Sheet:
Quantum Redshift puts gamers in command of the most extreme, hyperspeed racing machines that travel in excess of 650 mph and are able to interact with the terrain. As players progress, they unlock not only new characters but also new speeds (five in all), providing a racing experience like no other. In addition, the vehicles are equipped with highly advanced offensive and defensive weapons systems, allowing characters to attack each other with everything from plasma bolts to tidal waves. Players will have the opportunity to race on a total of 16 detail-laden tracks and compete in up to four-player split-screen against their friends.
Vehicles ? ?Quantum Redshift? puts gamers in command of the most extreme, hyper-speed racing machines ever developed. Each hover vehicle interacts with any terrain type, but is specifically designed to excel on the driver?s home circuit.
Speed ? The game features five levels of hyper-speed with the ultimate level – ?Quantum Redshift? – reaching speeds over 900 mph. Gamers earn higher speeds and greater rewards by prevailing in each race and winning trophies. Acquiring trophies at various speed levels, unlocks special characters, speeds and tracks — giving ?Quantum Redshift? extended gameplay and depth.
Weapons ? Each vehicle features its own unique holographic weapon technology. The game has 160 different weapons effects, letting characters attack with everything from plasma bolts to tidal waves to nuclear weapons. Each vehicle also has its own unique ?weapons pickups? stationed at various points throughout the game.
Tracks ? The game features 16 detail-laden tracks, across eight different world locations where gamers hurtle across rough terrain, through forests, across turbulent water and over massive jumps. The futuristic racing circuits include: Silver Rock Canyon, a former national park in New Mexico; Kalau Wastelands, a former nuclear test site in Siberia; Fuusoku City, a newly developed metropolis located in Japan; Solar City, a cosmopolitan city sometimes referred to as ?Hong Kong Down Under?; Brackenstowe Vale, a track for water specialists, located in the glorious Lake District; and Draco Island, located in the Pacific Ocean with an active volcano.
Characters ? Players choose from one of sixteen characters including: Tara Vivas, a former red-hot teen pop sensation; PrinceYuri Galitz, a wealthy Russian who claims to be the last of the Romanov line; Kumiko Nikaido, the daughter of one of the greatest racers of all time; and Zaki Shaheen, a skilled racer who believes he owes his success to Osiris, the ancient Egyptian god of the dead. Each of the 16 drivers has his/her own unique ship, home circuit and weapons. Intense nemesis storylines, developed throughout the game via cut scenes and animation, range from ?political adversaries? to ?estranged lovers.?
Advanced audio ? In leveraging the audio capabilities of Xbox, ?Quantum Redshift? supports Dolby 5.1, in addition to a fully interactive music soundtrack, composed by acclaimed musical sensation, Junkie XL. ?Quantum Redshift? also supports the widescreen television format.
Multiplayer ? Quantum Redshift supports up to four-player split screen action.