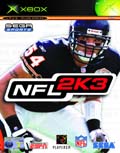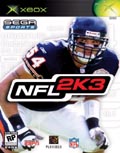 TITLE NFL 2K3
GENRE Sport
PLATFORM XBOX
DEVELOPER Visual Concepts
US PUBLISHER SEGA of America
UK PUBLISHER SEGA Europe
NORDIC PUBLISHER SEGA Europe
ONLINE PLAY Yes
Media Screenshots:
SCREENS ADDED: 01 Dec-2005
Official Fact Sheet:
Emerging bigger, stronger, and more determined than ever, SEGA Sports NFL 2K3 approaches the 2002 season destined for greatness. Building upon championship-caliber gameplay and presentation, NFL 2K3 raises the bar with new lifelike player animations, convincing play-calling intelligence, an on-the-fly audible system and a brand new broadcast system. And in these days of free agency when championships are won or lost in the front office as well as down on the field, NFL 2K3's new easy-to-use Franchise mode gives you total team control as player, coach, and general manager? track the best players, make the smartest trades, and build the most dominant team in the league. Complete with all of the updated rosters, new NFL re-alignment changes, and authentic stadiums redesigned in full 3D for the 2002 season.
All New Franchise Mode ? Track comprehensive player stats and make shrewd trades as you build your franchise while developing your current team and performing on the field each week. An intuitive visual presentation makes being a General Manager easier to navigate than ever before.
Effective Audible System ? Call plays just before the snap to catch your opponent off guard. NFL 2K3 eliminates the complexity, making it simple to call a blitz or take advantage of a defensive mismatch.
Improved Play Calling ? Computer opponents use more smarts when calling plays including tough defensive stands when you're attacking in the red zone.
Gamers have the ability to draft senior college players from SEGA Sports NCAA College Football 2K3 and have them play into the next season on NFL 2K3.
Next Generation Animation ? All the exceptional football moves you expect from the NFL 2K series plus improved stiff arms, last-ditch QB passing, stinging aerial hits, ball stripping lunges, and many more.
Award-Winning Play-by-Play and Commentary ? announcers deliver insightful commentary based on game situation, historical references, milestones, and other factors and use visual aides such as a telestrator and dynamic camera angles to illustrate key points.
Highly Detailed Player Models ? Players look more genuine and lifelike than ever, and with more facial models and expressions, you'll recognize more of your favorite NFL stars.
Redesigned 3D Stadiums ? Every NFL stadium is here, authentically reproduced in stunning 3D. From the cheap seats to sidelines crowded with players, coaches, and camera crews, no detail is overlooked.
NFL 2K3 features all new rosters, uniforms, and player ratings for the 2002 season including league alignment changes and the addition of the Houston Texans.
Compete head-to-head online against NFL 2K3 players nationwide