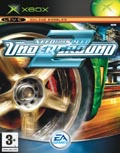 TITLE Need for Speed Underground 2
GENRE Racing
PLATFORM XBOX
DEVELOPER EA Games
US PUBLISHER Electronic Arts
UK PUBLISHER Electronic Arts
NORDIC PUBLISHER Electronic Arts
ONLINE PLAY Yes
Media Screenshots:
SCREENS ADDED: 25 Aug-2004
SCREENS ADDED: 18 Aug-2004
Official Fact Sheet:
Discover the living, breathing world of tuner culture in Need for Speed Underground 2, the sequel to the best-selling racing game of 2003, and the latest blockbuster installment in the legendary Need for Speed franchise.
Taking place in a massive, free-roaming city featuring five distinct interconnected neighborhoods, Need for Speed Underground 2 delivers an immersive game world where the streets are your menus. As players explore the city, they'll encounter rival racers who will school them in the ways of the underground and tip them off to the hottest racing spots in town.
Deep new performance tuning allows gamers to fine-tune every aspect of their ride's handling and performance, while hundreds of new visual customizations guarantee players can create their own personalized, totally unique car.
All-new game modes join Circuit, Drift, and Drag events to add depth and variety, pushing car and driver to the limit, while more than a dozen new cars and hundreds of aftermarket parts from the biggest names in the business make Need for Speed Underground 2 the deepest, most authentic tuner experience ever.
Free-Roaming City: Explore a massive city divided into five distinct, interconnected neighborhoods, ranging from serpentine suburban hills to an intense downtown grid. A complex series of drivable freeways connect the neighborhoods together.
Emergent Gameplay: Want to make a name for yourself in the underground? You'll need to find it first. Races can happen anywhere and at any time and as players encounter rivals on the street they'll be clued into where they can buy the hottest upgrades or enter the most elite events.
New Gameplay Modes: Three new gameplay modes are added to last year's circuit, drift and drag competitions, challenging gamers to hone their skills in a number of driving disciplines.
Performance Tuning: Tune every aspect of your car's performance with hundreds of licensed aftermarket performance upgrades and then fine-tune everything from the gear ratio to the suspension for the ultimate ride.
The Hottest Cars: More than thirty of the most sought-after tuner cars are available from the hottest manufacturers-from Nissan Motor Co., Toyota?, and Mitsubishi Motors and more — if they're hot on the street, they're in the game.
Visual Customization: With more than twice the visual customizations of last year's game, there are literally billions of car combinations available to gamers. Featuring audio upgrades, scissor doors, spoilers, headlights, side skirts, roof scoops, hoods, rims, wide body kits, neon and more, if you can trick it out in real life, you can trick it out in Need for Speed Underground 2.
Environmental Variety: Each of the five distinct neighborhoods in Need for Speed Underground 2 feature a unique look and feel, including varied driving conditions and track types. Road surfaces, real-time weather effects, and environmental hazards will keep gamers on their toes as they race from dusk till dawn.
Online: Gamers can put their reputation on the line, challenging the world's best racers online for the PlayStation?2 computer entertainment system