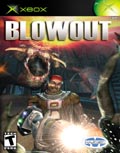 TITLE BlowOut
GENRE Action
PLATFORM XBOX
DEVELOPER Terminal Reality
US PUBLISHER Majesco Entertainment
UK PUBLISHER Zushi Games
NORDIC PUBLISHER Zushi Games
ONLINE PLAY No
Media Screenshots:
SCREENS ADDED: 28 Aug-2003
SCREENS ADDED: 03 Apr-2003
Official Fact Sheet:
OK, forget everything you've learned before. In the next five minutes, you'll need to blow away 150 of the most deadly, mean alien bugs you can come across. Or die.
You will be leading a platoon of the fifth Marine commandos to cleanse 65,000 metric tons of space hulk of the galaxy's most vicious alien bugs. You probably won't make it, but we're giving you the hardware to do the job. Check this out:
A 7.68mm General Electric Minigun, 75lbs. Industrial ChainSaw, 20mm Pump-Action Shotgun, 8-meter FlameThrower, Plasma Rifle, Machine Gun, 8" NailGun and more.
A dropship is ready to lauch you into action. Like we said before, you probably won't make it, but hell, who knows?
3D Abuse?!
Start massive firefights in true 360-degree freedom;
Non-stop 3rd person 3D action with innovative control method;
Blast through walls, ceilings and floors to discover secrets and powerups;
Annihilate wave after wave of vicious, deadly aliens with massive firepower;
Easily create and distribute your own levels with the built-in editor!