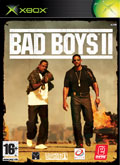 TITLE Bad Boys II (AKA Bad Boys: Miami Takedown)
GENRE Action
PLATFORM XBOX
DEVELOPER Blitz Games
US PUBLISHER Empire Interactive
UK PUBLISHER Empire Interactive
NORDIC PUBLISHER Empire Interactive
ONLINE PLAY No
Media Screenshots:
SCREENS ADDED: 22 Jan-2004
Official Fact Sheet:
Licensed from MGM Interactive, the game will follow the premise of the film; yet will add some new and interesting twists to the plot. Debuting in U.S. theaters this April, the film is based on the comic book published by Flypaper Press in 1999. Internationally acclaimed director/producer John Woo and Terrance Chang's production company, Lion Rock Productions, is producing the film.
A mysterious monk with no name has zigzagged the globe to protect an ancient artifact, the Scroll of the Ultimate, which holds the key to unlimited power. Now the monk must find a prot?g? to be guardian and protect the scroll for next generation…
Kar is an unlikely candidate, a streetwise young man whose only interest is himself. But when he saves the Bulletproof Monk from capture, the two become partners in a scheme to save the world from the scroll's most avid pursuer. Together with the help of a sexy and elusive young woman called Bad Girl, they must seek out and face the ultimate enemy…
The officially licensed game captures all the moves and fun factor of the popular movie Bulletproof Monk and then some!
Control the main characters and many more from the movie, each with different and amazing abilities.
Cinematic 360? action fighting system – use punch, kick, block and special move combos in every direction.
Fifteen different arenas, each with a variety of interactive scenery and objects – run up walls, swing on poles and use many Wire-FuTM techniques!
Fantastic range of play modes adds other depth to gameplay – includes Story, Arcade and many Multiplayer modes.
One to four-player simultaneous Multiplayer action includes Deathmatch, Team Mode, Tag Team Mode and many other unlockable modes. Do you have the skills to find them all?