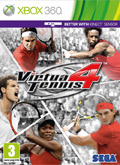 TITLE Virtua Tennis 4
GENRE Sport
PLATFORM XBOX360
DEVELOPER SEGA
US PUBLISHER SEGA of America
UK PUBLISHER SEGA Europe
NORDIC PUBLISHER SEGA Europe
ONLINE PLAY Yes
Videos:
Official Fact Sheet:
As spring hits and tennis fever takes over the world, top tennis stars warm up and head for the courts to battle it out and be crowned No 1. Relive the tension and excitement with Virtua Tennis 4 by taking on the likes of tennis heroes; Rafael Nadal, Roger Federer, Andy Murray, Juan Martin Del Porto and Caroline Wozniacki. Experience the same intense drama as you build up your Match Momentum gauge, and revel in your form as your player grows in confidence.
Virtua Tennis 4 takes the series to a higher level of realism with the PlayStation?Move, MotionPlus and Kinect compatibility, pushing the tennis genre forward yet again. Exciting new features such as a refreshing World Tour experience means every decision you make both on and off the court, will affect your path. You'll never experience the same career twice!
The world's top stars return – The top players in the world return, joined by some of the most exciting up-and-coming contenders. An all-star line-up of 19 players includes Nadal, Federer, Murray, Sharapova, Wozniacki and Williams
Headbands at the ready – Players will be able to get even closer to the real thing with new motion control functionality on Move, Kinect and Wii Motion
Tennis stardom awaits – A totally new World Tour sees the VT career mode go 'RPG'. Designed to encourage replay value and with an element of off-court fame, each decision affects a player's career path meaning no two careers will ever be the same.
A true online hub for our community – The new online centre will offer the world's first engaging online tennis experience. Designed using the popular Virtua Fighter 5 technology, the matchmaking system promises more competitive games, and online tournaments will seek to find the ultimate Virtua Tennis champion.
Experience the drama – A brand new on-court feature making for more dramatic matches. Build up your Match Momentum gauge over the course of a match and revel in your form as your player grows in confidence, allowing them to play shots mere mortals can only dream about.
Putting the fun back into mini-games – Breaking the mini-game mould to include new weather conditions and put a real focus on multiplayer action, the VT mini-games will give players a real alternative mode to compete in both multiplayer and online.