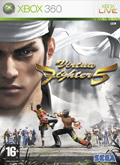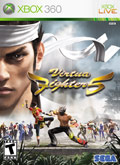 TITLE Virtua Fighter 5
GENRE Fighting
PLATFORM XBOX360
DEVELOPER SEGA-AM2
US PUBLISHER SEGA of America
UK PUBLISHER SEGA Europe
NORDIC PUBLISHER SEGA Europe
ONLINE PLAY Yes
Media Screenshots:
SCREENS ADDED: 26 Jun-2007
SCREENS ADDED: 11 May-2007
Videos:
Official Fact Sheet:
Virtua Fighter 5 will elevate the arcade fighting genre to all new heights as the game promises to take true advantage of the capabilities of the next generation hardware. Virtua Fighter 5 raises the bar for console fighting games including all the features fans know and love plus enhanced gameplay mechanics, additional characters and new fighting styles, as well as newly redesigned 3D environments.
Virtua Fighter 5 will deliver fast-paced, adrenaline-pumping action as players head into battle, taking on a host of popular characters. The game will introduce two new dynamic characters, El Blaze and Eileen, complete with new fighting techniques and from completely different backgrounds. Play as one of the 17 default characters in the game or customize a character. Players will be able to modify their characters by selecting from four base costumes and then decorate them by attaching a wide range of unlockable and earnable items. Players will not only achieve victory by defeating highly-skilled opponents, but also by competing for prizes and earning in-game money allowing them to buy many items at an in-game shop. Further building upon the depth of the series, players will now be able to move around their opponent using an ?Offensive Move? technique, adding a new strategic element to their battles.
Two New Characters, El Blaze and Eileen, round out the cast of 17 dynamic characters. El Blaze is a Mexican wrestling champion that uses the Lucha Libre fighting style, and Eileen, originally from China, uses ?Kou-Ken? a Monkey Kung Fu style which she learned from her grandfather.
Reinvented Quest Mode where players can compete in various arcades and win prize money to fully customize each character. The Quest Mode will also allow players to choose their opponents allowing for more strategic and flexible gameplay. Would you rather fight in an easy competition to win items to customize your character or compete against the highest ranked fighter to improve your dan-level? The choice is yours.
Commentary Function allows players to turn on a play-by-play sports commentary audio creating an action-packed competitive atmosphere.
In-depth DOJO Mode where players can learn and practice thousands of moves and techniques to succeed. The DOJO Mode allows players to practice against any of the characters they choose, set their skill level, specify their actions and reactions and activate in depth display settings showing button inputs and move frame counts in real time.
Customize your character with the enhanced attachment system and customization engine giving players more flexibility than ever before when creating their characters.
Stunning, Highly-Detailed 3-D Fighting Environments inspired by locales around the world where players can challenge their opponents in unique types of arenas.
Offensive Move lets players to move around their opponent from the side and back allowing players to be more strategic with their battles.
Next Gen Presentation HD resolution widescreen and Dolby Digital 5.1ch.