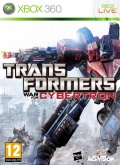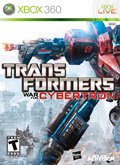 TITLE Transformers: War for Cybertron
GENRE Action
PLATFORM XBOX360
DEVELOPER High Moon Studios
US PUBLISHER Activision
UK PUBLISHER Activision
NORDIC PUBLISHER Activision
ONLINE PLAY Yes
Videos:
Official Fact Sheet:
Transformers: War for Cybertron challenges players to become the ultimate weapon as a TRANSFORMERS character in the final, epic war that will determine the survival of their entire race. Armed with a diverse arsenal of lethal, high-tech weaponry and the ability to instantly convert from robot to vehicle at any time, players will engage in heart-pounding battles on land and in the air in this gripping, 3rd person action shooter set in the TRANSFORMERS' war-ravaged homeland. Complete with several multiplayer modes, Transformers: War for Cybertron allows gamers to play through story missions with their friends in drop in/drop out online co-op, and also create their own TRANSFORMERS character for competitive head-to-head multiplayer modes, choosing among four distinct character classes, personalizing its look and selecting from a huge variety of weapons, skills and abilities.
Become the Ultimate Weapon for Survival – Gamers can instantly convert from robot to vehicle form with the push of a single button, anytime and anywhere, allowing players to strategically demolish their enemies through a diverse variety of gameplay environments.
Take the Epic War Online – For the first time in a TRANSFORMERS game, fans can play through each adrenaline-fueled campaign, as AUTOBOTS or DECEPTICONS, with friends around the world in drop-in/drop-out online co-operative play, and compete against one another in a bevy of intense multiplayer game modes as their very own user-created characters.
Create Your Own TRANSFORMERS Character – Used in head-to-head multiplayer battles, players can choose from four robust character classes and personalize the look and feel of their TRANSFORMERS character. Fans can select from a wide variety of weapons and customize their skills loadout, with the ability to level up their characters to gain new upgrades and attributes in a deep, rewarding multiplayer experience.
Experience the Legendary Conflict from the Beginning – Developed in close collaboration with Hasbro, the storyline introduces entirely re-imagined visualizations of everyone's favorite characters that comprise an original contribution to the official TRANSFORMERS canon. Players will embark on the epic journey through the most pivotal moments of the final war for the TRANSFORMERS' home planet of Cybertron.