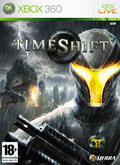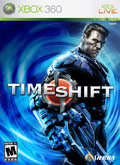 TITLE TimeShift
GENRE FPS
PLATFORM XBOX360
DEVELOPER Saber Interactive
US PUBLISHER Vivendi Games
UK PUBLISHER Vivendi Games
NORDIC PUBLISHER Vivendi Games
ONLINE PLAY Yes
Media Screenshots:
SCREENS ADDED: 15 Sep-2006
SCREENS ADDED: 10 May-2006
Videos:
Official Fact Sheet:
Set in the not too distant future, TimeShift from Saber Interactive will take the first-person genre to an entirely different dimension where the world as we know it has been erased from history and the very memory of us will be wiped out like tears in the rain. Our descendants will never be born – our existence will become but a mere dream and the future as we know it will never come to be.
Gamers assume the role of retired Colonel, Michael Swift, who has been selected by the US Government to test two of the most significant inventions of the century – a time-control device called the "Quantum Suit" and a time machine called the "Quantum Transporter". However, before he gets a chance to carry out his experiments, his laboratory is invaded by a masked man and in the confusion Swift is briefly sent back in time to 1900. Upon his return to the present, the world he left has changed beyond all recognition. It is now Swift's responsibility to find a way to rectify things and find out who or what is behind the changes.
The technology behind TimeShift will allow gamers for the first time the ability to slow, stop and reverse the flow of time while remaining completely isolated. Set in an engrossing storyline, gamers must learn to master this new skill to navigate through the new universe and ultimately complete the adventure. Using Saber Interactive's proprietary Saber3d Engine, the story will progress through virtual environments of cinematic quality and a sophisticated AI will challenge gamers to think creatively on how to use their new powers.
Time control elements never before seen in a first person shooter – players can slow, stop and rewind time affecting the world and enemies around them while moving freely through frozen worlds
Time shifting obstacles will challenge the players to think in four dimensions to solve problems and defeat difficult enemies
Next generation graphics technology in the Saber3D engine, including normal mapping for amazing high detailed textures and characters as well as parallax lighting, which allows the environment to come alive with detail
Deep storyline involving time travel and betrayal, featuring an alternate time stream filled with alternate technology
A wide array of unique weapons from an alternate timeline, plasma guns, hybrid grenades, full action pistols and the dreaded "Swarm Cannon"
More than 35 combat missions, each one featuring time shifting elements and challenges standing in the way of completion
Online multiplayer game that allows players to use their time shifting powers against other human adversaries.