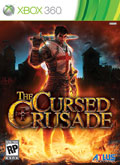 TITLE The Cursed Crusade
GENRE RPG
PLATFORM XBOX360
DEVELOPER Kylotonn
US PUBLISHER Atlus USA
UK PUBLISHER Mastertronic
NORDIC PUBLISHER Mastertronic
ONLINE PLAY TBA
Videos:
Official Fact Sheet:
The end of 12th century is nearing. The Pope Innocent 3rd launches a new crusade in order to conquest the holy city, given up few years earlier to the Sultan Solomon armies. While the High Franc Barons mobilize for this new great epic, the meeting with Prince Alexis, Byzantine Empire throne descendant, will change the course of history: This crusade will never go further than Constantinople?
Select one of the three knights engaged in this adventure and fight against Byzantine Empire troopers, in the heart of Crusaders army.
Choose your equipment among more than 150 weapons of various categories (blades, axes, flails, crossbows?) – Learn new combos by engaging in a Crusaders Faction such as the well-known Templars.
Get new skills and make your character evolve through a deep apprenticeship besides fencing instructors.
Provide your character with new armors and equipments.
Recruit and lead a squadron of up to 4 mercenaries, give them orders and get their help to accomplish your mission.
Cross about 20 distinct environments through 12th Century Europe and get involved in the conquest of the richest city in the world: Constantinople. Fight in the heart of its most famous monuments in 3D, from Hagia Sophia to the Theodosian Walls?