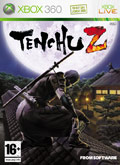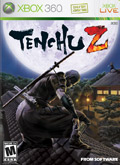 TITLE Tenchu Z
GENRE Fighting
PLATFORM XBOX360
DEVELOPER K2
US PUBLISHER Microsoft
UK PUBLISHER Microsoft
NORDIC PUBLISHER Microsoft
ONLINE PLAY Yes
Media Screenshots:
SCREENS ADDED: 11 Jun-2007
SCREENS ADDED: 25 May-2007
Videos:
Official Fact Sheet:
Become the ultimate ninja assassin in Tenchu Z. Eliminate unsuspecting guards using stealth kills or your favorite ninja weaponry, or even go straight for the big boss! Use sound, sight, and scent detection as you search out your opponents and unlock deadly new moves and weapons.
Master the new stealth kill system: Attack and kill an opponent while hanging from the ceiling, or even from beneath the floor! Sheath your weapons to help you remain hidden, or take it out to attack your enemies. The new double kill technique allows you to eliminate multiple opponents without sacrificing your stealth.
Play through more than 50 missions: Assassinate your target, pour poison into a river in enemy territory, or deliver a secret scroll, all while avoiding enemy detection. Each mission presents a unique challenge and will test your ability to adapt your ninja skills to any situation.
Enlist the help of fellow ninjas: Play at home with up to four players on system link, or jump online and play co-op on Xbox LIVE. Review the map, strategize with your partners, and devise mission tactics in the village that serves as your base of operations and the in-game chat room.
Experience enhanced ninja play with the Ki meter: Use the new Ki (life force) meter to avoid being detected by enemies and to move like a real ninja. Use all your senses to move in the shadows and remain completely undetected.
Build fully customizable characters: Use a variety of body types, facial features, tattoos, and clothing to build your own custom ninja. You can also tailor your combo attacks and special moves to suit your own playing style, adjusting your character's attributes and purchasing new moves to master.