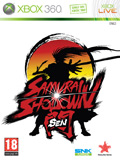 TITLE Samurai Shodown Sen
GENRE Fighting
PLATFORM XBOX360
DEVELOPER SNK PlayMore
US PUBLISHER SNK PlayMore USA
UK PUBLISHER Rising Star
NORDIC PUBLISHER Rising Star
ONLINE PLAY Yes
Videos:
Official Fact Sheet:
Staying close to its roots, alongside Princess Suzu, Takechiyo and a host of new characters, a plethora of old favourites from the series have been faithfully incorporated, including Haohmaru, Galford, Hanzo Hattori, Nakoruru and Ukyo Tachibana- taking the warriors to over 20 in total. Players can become any one of these unique fighters via the Xbox LIVE online entertainment network, to battle friends to see who can reach the top of a worldwide online ranking system.
Each character has its own unique backstory and stats sheet, with each adopting varied, yet personalised sword styles, such as the Korean spear fighter Kim, along with contemporary, artistic techniques from J, the afro samurai and Gallows, the axe-wielding Viking.
This is the Samurai Shodown you've been waiting for! Its intricate graphics crafted to the smallest detail and brimming with realism are a must-see! Your pulse will pound to the thrill of true battle with gameplay rivalling the latest classic reincarnations.
Carefully crafted characters, battles exploiting the new spatial environment, various systems tailored to 3D action, and content pursuing the ultimate in realism put you in a serious life-or-death struggle! Experience the latest 3D swordplay spectacle in the ever-evolving Samurai Shodown series, "Samurai Shodown Sen."
"Samurai Shodown: Edge of Destiny" has over 10 new characters! Along with the old favorites of Haohmaru, Kibagami, Nakoruru, and Ukyo come the new main characters of Takechiyo and Princess Suzu to propel Samurai Shodown into a new chapter of its epic story!!!
The special "Power Slash" of Samurai Shodown lives! You can make slashes vertically and horizontally, too! A host of other deadly attacks at your disposal include the "Rage Explosion" that increases your attack power and lets you use special moves, as well as "Guard Shatter Moves" which render opponents completely defenseless.