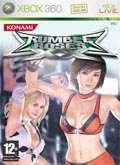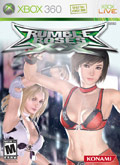 TITLE Rumble Roses XX
GENRE Sport
PLATFORM XBOX360
DEVELOPER Konami
US PUBLISHER Konami Digital Entertainment
UK PUBLISHER Konami Digital Entertainment GmbH
NORDIC PUBLISHER Konami Digital Entertainment GmbH
ONLINE PLAY Yes
Media Screenshots:
SCREENS ADDED: 26 Jan-2006
SCREENS ADDED: 03 Dec-2005
Videos:
Official Fact Sheet:
Featuring over 20 female characters, Rumble Roses XX is a graphically stunning wrestling title featuring a wide range of throws, counter-moves and pin-downs. Each character has a distinct personality, from Cow-Girl Dixie through to school girl Reiko and wicked nurse Anesthesia. In addition to the staple throws, slaps and pins of the wrestling genre, each girl has specific attacks linked to their overt personalities and can also string together a number of moves to create formidable combinations. In keeping with the glitzy showcase nature of the game, the girls also have taunt moves to rile their opponents and to get the crowd going.
Rumble Roses XX features a number of solo modes wherein players can pummel their way through the game's many characters and unlock additional foes. There are also a number of additional competitions to put the player through their paces, each giving the player a chance to access the hundreds of possible attacks the game can produce.
Multi-player action is also included via a four-player Tag team competition, wherein two teams of two girls can fight against each other. The Tag Team mode also gives players access to previously inaccessible moves as the pairs work together. Rumble Roses XX will also make use of the Xbox? Live online gaming service, with one-again-one bouts or team battles to be enjoyed against like-minded fans.