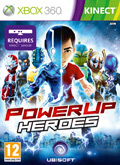 TITLE PowerUp Heroes
GENRE Fighting
PLATFORM XBOX360
DEVELOPER Longtail Studios
US PUBLISHER Ubisoft
UK PUBLISHER Ubisoft
NORDIC PUBLISHER Ubisoft
ONLINE PLAY Yes
Videos:
Official Fact Sheet:
PowerUp Heroes is the game allowing you to feel and act like a super-hero.The time has come to take your Xbox360 avatar and make it a superhero with awesome super powers to face off against super villains, and eradicate the forces of evil.
You can collect and gain many suits. Unlock your Avatar's full potential, make him evolve. Fight after fight you will be more powerful and strongest to face against your friends and become the Almighty Super-Hero of the world !
Live out your dreams of becoming the ultimate hero by transforming X360 avatar into a superhero, infusing it with powers and unleash your strength.
You choose over 12 characters boys and girls,each one with their own personality and style.
Take on opponents each charged with a different set of deadly powers. Beat them in an amazing battle to seize their super suits, steal them their abilities, and wield their power for next battles!
Grandiose music and high quality sound effects to create an amazing and incredible experience to let you unleash your fighting spirit.
Use your entire body to control how you fight: strike forward to launch projectiles and with a friend unleash double powered super assaults.
1 vs. 1 – PvP is in split screen so each player can see his hero in 3rd person in front of the screen, and the enemy at the back.
2 vs. 1 (Tag team vs. AI) – You have to raise your arm to change player.
1 vs. 1 – PvP mode (online)
2 vs. 1 (Tag team vs. AI) – A super combined attack is possible. The 2 players jump in the arena for a super attack (online)
2 vs. 2 – Coop mode (online)