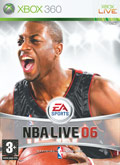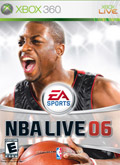 TITLE NBA Live 06
GENRE Sport
PLATFORM XBOX360
DEVELOPER EA Sports
US PUBLISHER Electronic Arts
UK PUBLISHER Electronic Arts
NORDIC PUBLISHER Electronic Arts
ONLINE PLAY Yes
Media Screenshots:
SCREENS ADDED: 03 Oct-2005
SCREENS ADDED: 19 May-2005

Official Fact Sheet:
Rebuilt from the ground up and powered by next generation gameplay, players can now see and feel the emotion and intensity of the complete basketball experience with NBA LIVE 06.
NBA stars jump to life with real-world physics and enhanced animations, including sweat streaming down the players' faces, their eyes following the path of the ball, and muscles flexing in the heat of battle.
With true-to-life details, major gameplay advancements, unprecedented player graphics and an all-new dynamic camera system, the sport of basketball is elevated to a whole new level.
Next Generation Gameplay: Powered by HD technology and featuring the most realistic and true-to-life gameplay ever seen in a basketball videogame, NBA LIVE 06 offers gamers a whole new experience on the Xbox 360. Players come alive with real-world physics, and hair and cloth animation, as they look and perform like their real-world counterparts. Featuring authentic jump shot techniques from the game's best players, intense collisions in the paint and an all-new free throw mechanism, NBA LIVE 06 on the Xbox 360 continues to innovate on the EA SPORTS Freestyle Control as it redefines interactive basketball.
In The Game All The Time: Ensuring that users can always be immersed in the sport of basketball, NBA LIVE 06 on Xbox 360 features an entirely new navigation system. Replacing traditional menu screens is an all-new practice gym that users are immediately dropped into using a seamless transition after booting up the game. Practice your Freestyle moves, work on your jump shot or drive the lane-it's all possible while new games or modes load. The all-new practice gym in NBA LIVE 06 brings a true next generation feeling to the experience.
Impeccable Detail: From the players on the court to the arenas they play in, NBA LIVE 06 offers a level of detail never before seen in a basketball videogame. From centers to guards, players are complete with realistic body proportions, sweat dripping down their faces and muscles that flex as they battle on the hardwood. Detail to arenas and the fans that fill them are captured with all-new precision-from 3-D crowds to new immersive lighting-to deliver the electric atmospheres of the NBA.
Create A Player: With an enhanced character-creation technology, create an NBA superstar who looks exactly like you. Using the analog control sticks of the Xbox 360 controller, select from hundreds of types of hair, body proportions, wristbands, headbands, shoes and more.
Season Mode: Take on the challenge of winning an NBA championship as you battle conference rivals and cross-country powerhouses inside new-look arenas and venues. If your team has what it takes after an 82-game battle, it's on to the playoffs where you can battle for the ultimate title.
The Voices of the NBA: Joining Marv Albert is new analyst Steve Kerr. The on-air TV partners call all the 5-on-5 action and give you the best seat in the house.
EA SPORTS Online: EA SPORTS Online allows users to play online against opponents from anywhere in the world and gives gamers the opportunity to meet, greet, chat, download roster updates, and play head to head.