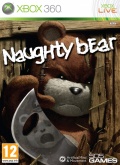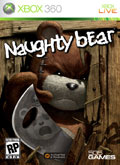 TITLE Naughty Bear
GENRE Action
PLATFORM XBOX360
DEVELOPER Artificial Mind And Move (A2M)
US PUBLISHER 505 Games
UK PUBLISHER 505 Games
NORDIC PUBLISHER 505 Games
ONLINE PLAY Yes
Media Screenshots:
SCREENS ADDED: 05 Mar-2010
Videos:
Official Fact Sheet:
NaughtyBear is a grisly psychopath slicing a path of manipulation and terror across a cartoon world of otherwise blissful teddy bears on the Island of Perfection. The other bears have gotten away with blaming NaughtyBear for everything that has gone wrong on the island?until now. NaughtyBear tells the tale of one demented teddy bear?s ruthless efforts to torment and harass the inhabitants of the Island of Perfection. Gamers will engage in sadistic scuffles with hapless stuffed animals from all corners of the toy box, waging psychological warfare on unsuspecting victims.
Saturday Morning Storyline Gone Wrong: Features a unique blend of comic mischief and syrupy cuteness juxtaposed with over-the-top cartoon violence
Encounter Bigger, Badder Bears: As the game progresses, the innocent, law-abiding bears that cross NaughtyBear?s path get more difficult to overcome, with unique characteristics and weaponry encountered at every level
Wreak Havoc on the Teddy Bears? Picnic: Players create mass chaos and collect ?Naughty Points? by unleashing an arsenal of attacks using a variety of brutal weapons and strategizing the demise of Naughty Bear?s cute and cuddly enemies
An Entire Island of Mischief to Unlock: The debauchery transpires on a large island divided into four different areas, locked or unlocked depending on the level and skill of each gamer. There are a total of 28 levels to unlock by obtaining top scores and achievements as gamers move through the island and destroy each stuffing-filled foe that crosses their path
You?ll Never Tire of Being Naughty: NaughtyBear lets loose a large range of objectives and obstacles at different times of the day and in different weather with a diverse cast of characters. Gameplay changes every time, with a large selection of unique ways to cause naughtiness
throughout the island, ensuring endless replayability.
Boast to the other Bears: Gamers can compete in a range of hilarious multiplayer games and see how their naughtiness levels stack up against others, as they earn a number of achievements and trophies
Find All the Locked Away Fun: Gamers can collect all the hidden party items locked away by the other bears and search the game world for bear uniforms that will give Naughty Bear special powers and upgrades