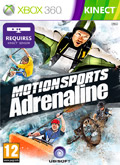 TITLE MotionSports Adrenaline
GENRE Sport
PLATFORM XBOX360
DEVELOPER Ubisoft
US PUBLISHER Ubisoft
UK PUBLISHER Ubisoft
NORDIC PUBLISHER Ubisoft
ONLINE PLAY TBA
Videos:
Official Fact Sheet:
Make a name for yourself in the world of extreme sports! Try your hand at multiple crazy extreme sports and pose as a superstar phenomenon by challenging your friends in exciting competitions.
Motionsports Adrenaline will allow you, your friends and family to take part in extreme activities you would never dream of attempting in real life. From the peaks of the Himalayas to the waterfalls of the Amazon, this is the chance to release your inner daredevil. So one question remains: Will you take the challenge?
Gain fame and notoriety by mastering 8 extreme and dangerous sports:

Wingsuit
Mountainbike
Rock climbing
Kayak
Kitesurf
Parkour
Extreme Ski
Extreme Trampoline

Travel the world and discover 8 awesome and unique locations increasingly perilous, influenced by the real world, which fully utilize the power of the Xbox 360 and PS3
High-energy licensed soundtrack
Party Mode keeps up to 4 players involved by delivering a wealth of challenges, like races, relays and trick trails
Use collectable items to affect your opponents, for example use water bombs to slow and disorient them
Choose to compete against or co-operate with your friends and family.
Online features delivered seamlessly and by default during gameplay
The courses are populated by recorded performances of your online friends
Automatically take on and set online challenges with your friends as you participate in each event
Intuitive control is just what you'd expect from sports like these, but with an extra layer of fun attached which requires uninhibited motion and distinct gestures from the player.