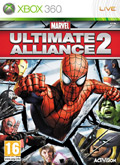 TITLE Marvel Ultimate Alliance 2: Fusion
GENRE Action
PLATFORM XBOX360
DEVELOPER Vicarious Visions
US PUBLISHER Activision
UK PUBLISHER Activision
NORDIC PUBLISHER Activision
ONLINE PLAY Yes
Media Screenshots:
SCREENS ADDED: 08 Sep-2009
SCREENS ADDED: 06 Apr-2009
Videos:
Official Fact Sheet:
The greatest Super Hero action/RPG of all time is back with the world?s largest army of heroes and villains in Marvel: Ultimate Alliance 2, the highly anticipated sequel to 2006?s award-winning Marvel: Ultimate Alliance. Incorporating elements of the acclaimed Marvel Civil War storyline, players must choose their side and team up to battle or interact with returning favorites and all-new characters, including Spider-Man, Wolverine, Hulk, Iron Man, Deadpool, Venom, Green Goblin, Iron Fist and Captain America, whose powers can be combined to unleash astonishing new attacks. Marvel: Ultimate Alliance 2 engages players in co-operative multiplayer through graphically rich and destructive real-world environments, and allows players to strengthen their ultimate Super Hero dream teams by teaming up to unleash astonishing fusions of super-powers.
Create and customize your ultimate team? Assemble your dream team from more than 20 of Marvel?s most revered heroes, including Spider-Man, Wolverine, Iron Man, Deadpool, and Captain America, along with fan-requested playable characters and villains, including Hulk, Venom, Green Goblin, Iron Fist and more.
Choose a side and determine your fate in a storyline inspired by Marvel?s acclaimed Civil War storyline ? Support the Pro-Registration side and defend national security, or choose to be Anti-Registration and fight for personal liberties, as you decide whether you are for or against the Superhuman Registration Act.
Fight fear with fusion ? Combine dynamic Super Hero powers (fusions) like never before. More than 250 unique fusions arm you with an unimaginable arsenal for unprecedented battles. Draw upon the best strengths of each Super Hero to deliver devastatingly powerful new moves, such as a fiery tornado between Human Torch and Storm, or a powerful beam splitter between Wolverine and Iron Man.
Play co-operatively with your ultimate alliance ? Take full advantage of the Marvel Universe by playing four-player Co-op Mode, both online and offline. Co-op specific team upgrades encourage online play and replayability to discover all of the different combinations. Improved online play also allows your characters to retain their experience gained through co-op play and carry that over into your own single-player campaign.
Make the Super Hero experience your own ? Deep RPG elements allow for more character customization and storyline immersion, such as upgrading abilities, powers and boosts for your team on the fly, plus storyline choices that will influence your characters? stats.
Wield next-gen superpower destruction ? Building on a heavily modified and upgraded version of Vicarious Visions? Alchemy engine that brought fans the original Marvel: Ultimate Alliance and the X-Men Legends series, players will demolish and interact with everything in their path.? Pummel your enemies by launching crushed cars, lampposts, machinery and anything else you can pick up in your way.