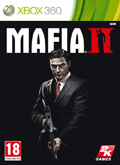 TITLE Mafia II
GENRE Action
PLATFORM XBOX360
DEVELOPER 2K Czech (Illusion Softworks)
US PUBLISHER 2K Games
UK PUBLISHER 2K Games
NORDIC PUBLISHER 2K Games
ONLINE PLAY Yes
Media Screenshots:
SCREENS ADDED: 16 Jun-2010
SCREENS ADDED: 05 Jun-2009
Videos:
Official Fact Sheet:
Born the son of a poor immigrant, Vito is a beaten down Italian American who is trying to escape the life of poverty that consumed his childhood. It was on the streets that Vito learns that joining the Mafia is the only route to wealth and respect for people of his standing. Wanting to escape the life of hardship that his father led, he dreams about becoming a ?Made Man.?
A petty criminal his whole life, Vito, along with his childhood friend, Joe, will descend into the world of organized crime. Together, they will work to prove themselves to the Mafia as they try to make their names on the streets. Starting with low-level jobs like robbery and stealing cars, Vito and Joe escalate quickly up the Mafia family ladder?but the life as a wise guy isn?t quite as glamorous as it seems.
Immersive Gangster Experience: Through strong, authentic characterization, compelling narrative and stunning presentation, the mature storyline will make players understand the pull and impossible escape of life in the Mafia
Action-Packed Gameplay: Take part in heart-stopping car-to-car chases, visceral hand-to-hand combat and intense gunplay, all of which come together to form a deep and engrossing gameplay experience
Illusion Engine: 2K Czech?s proprietary Illusion Engine, allows gamers to explore Empire Bay?s 10 square miles while transitioning from beautifully rendered outdoor environments to intricately designed interiors seamlessly without the need for loading times
Authentic Portrayal of Mid-20th Century America: Experience an epic story set across two decades where the clothing, cars and advertising are meticulously created to replicate the feel of a ?40s and ?50s American city; as players progress through the eras the city and its elements will change to reflect the time period.
Soundtrack Reflects the Mood of the Era: Players will be immersed in the Golden Era of America as Mafia II features tracks from some of the era?s most influential artists