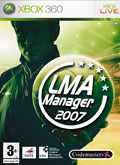 TITLE LMA Manager 2007
GENRE Sport
PLATFORM XBOX360
DEVELOPER Codemasters
US PUBLISHER N/A
UK PUBLISHER Codemasters
NORDIC PUBLISHER Codemasters
ONLINE PLAY Yes
Media Screenshots:
SCREENS ADDED: 18 May-2006
SCREENS ADDED: 15 Dec-2005
Official Fact Sheet:
LMA Manager?s pioneering use of a 3D match has become a defining game element for the series? legions of players. Now, the game?s enhanced visual engine will make full use of next-generation rendering systems, adding normal mapping, parallax mapping, and realistic lighting effects for even more detail that really brings match day home. The Xbox 360 edition of the game also plays out in glorious widescreen, giving you an even better view of the action.
Seeing your team play out your tactics in detail enables you to make instant decisions based on their play at that very moment, rather than continually referencing a page of stats or blobs floating around a screen.
Plus, the matches are run in real-time, meaning results aren't fixed before the whistle blows; it's about how you react as the game unfolds that can make or break the result. Do you sit back and try to defend a one-nil lead, or do you go all out for the second goal, but risk being hit on the counter-attack? These are the decisions that, for a manager, can make the difference between winning the league and getting the sack.
LMA Manager 2007 looks the business. LMA Manager 2007?s visuals take football management way beyond monitoring a spreadsheet to really deliver a graphically rich and immersive football management experience.
Action your decisions immediately with the brilliantly intuitive and user-friendly interface, where every piece of information is no more than a couple of button-presses away.
The most extensive world of football management. On PC and Xbox 360, LMA?s football world will expand to include teams from over 50 countries from all major continents.
More information ? faster than ever: With more data available than ever before, you want it delivered at speed. The Xbox 360 and PC versions see multi-threading implemented to keep the game moving at pace.
More detail ? instantly: On Xbox 360, the game?s information sections will support HDTV and 720p and the 3D match section in glorious widescreen. The PC edition sees more information and detail available on a single screen.
Football One ? your window on the football world is clearer than ever. Watch 3D highlights of your team?s performance and, for the first time, see the best of every match played in your current division.
Know your history with more data from previous seasons played. On Xbox 360 and PC you can store reports of all past matches ? the histories will be maintained for up to 20 seasons.