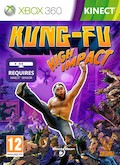 TITLE Kung-Fu: High Impact
GENRE Fighting
PLATFORM XBOX360
DEVELOPER Virtual Air Guitar
US PUBLISHER N/A
UK PUBLISHER Black Bean Games
NORDIC PUBLISHER Black Bean Games
ONLINE PLAY TBA
Videos:
Official Fact Sheet:
Are you ready to kick some serious ass?! Step inside the coolest, most impressive and magnificently entertaining adventure known to man. With the power of Kinect, Kung-Fu High Impact scans YOU inside a world of pulp action comics to kick, punch and shoot lightning from your hands like never before. Literally become a super-powered kung-fu hero and experience the intense action of the coolest full-body motion fighting game to date!
Make yourself a legend in a brand new story full of new features, levels, enemies, super powers and a renewed visual style. Star in a comic book adventure, create custom fights and test your skills in all new survival modes. Kung-Fu High Impact is fun to play and fun to watch. Whether you play solo or with friends, Kung-Fu High Impact allows you to kick ass on a whole new level.
Be the hero: Fight as yourself with boosted abilities
Freedom of movement: Kick, punch, jump kick, make flips, shoot arrows, smash your enemies and wreak havoc
Star in your own comic book adventure!
Play together: Fun to play and fun to watch up to 5 player simultaneous multiplayer
An extensive Kung-Fu story, custom battles, story comics and epic survival modes.
Varied levels and enemies – use your moves, powers, items and bonuses to fight everything from small creatures to giants.
14 levels hand painted look for the comic book realm.
16 smart enemies that require the player to adapt his approach
Interactive elements such as breakable surroundings
Super powers and bonus items: magic bow, double damage, mana boost, etc.
Many other awesome abilities such as blocking and slow motion close ups
46 achievements worth 1000 points!
Challenge your friends' score and earn bragging rights on the online leaderboards!