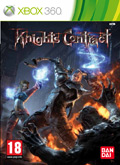 TITLE Knights Contract
GENRE Action/Adventure
PLATFORM XBOX360
DEVELOPER Namco Bandai
US PUBLISHER Namco Bandai
UK PUBLISHER Namco Bandai
NORDIC PUBLISHER Namco Bandai
ONLINE PLAY Yes
Media Screenshots:
SCREENS ADDED: 17 Jun-2010
SCREENS ADDED: 25 May-2010
Videos:
Official Fact Sheet:
A period action adventure set in the days when a healthy paranoia about witches was considered de rigeur, Knights Contract follows the tale of Heinrich, a cursed executioner of witches, and young girl Gretchen, a reincarnation of a witch whom Heinrich previously had the job of be-heading and who returned the favour by cursing him eternally.
When a stupendously evil and deadly threat descends on the earth, Gretchen, having had her young life curtailed once already, decides she is less than enthusiastic about seeing it ended again so soon. She decides to tackle the threat head-on by putting her curse on Heinrich to good use, enlisting his business-like and highly effective executing abilities to help curb the supernatural blood lust of their foes.
Nothing is so easy of course, and a lot of blood and its supernatural equivalent needs to be spilled before order can once again be restored to the land. Razor sharp scythes and explosive sorcery are your spectacularly effective weapons in a twilight world where you're never more than a stone's throw from someone, supernatural or otherwise, who would rather see you six feet under. It's time to let the combos fly and lay waste to the hordes of darkness with a liberal dose of medieval panache.