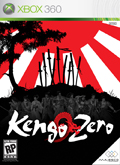 TITLE Kengo Zero
GENRE Fighting
PLATFORM XBOX360
DEVELOPER Genki
US PUBLISHER Majesco Entertainment
UK PUBLISHER Majesco Entertainment
NORDIC PUBLISHER Majesco Entertainment
ONLINE PLAY Yes
Media Screenshots:
SCREENS ADDED: 24 Aug-2007
Official Fact Sheet:
In feudal Japan, it was kill or be killed for the samurai. Kengo Zero lets you battle as one of nine famous samurai warriors while mastering expert techniques to gain an advantage over your foes. Become a Kengo Master as you fight your way through lush, high-definition Japanese environments.
Play as any of nine real samurai warriors from history: Musashi Miyamoto, Jubei Yagyu, Sanako Chiba, Ittosai Ito, Izo Okada, Soji Okita, Kojiro Sasaki, Ryoma Sakamoto and Yasubi Horibe
Each samurai has different storylines, attributes and attack techniques
Battles are loosely based on historical events including the raid of the Kira mansion and the battle at Ganryujima
Choose between 4 unique game play modes:

Main Mode?Select a character and advance his/her storyline that interconnects with other character storylines.
Mission Mode?Includes 10 different missions that must be completed within a set time limit.
Combat Mode?Compete in a 2-player head-to-head match.
Xbox Live Leaderboard: Connect to Xbox Live and compete against other gamers by pitting AI Characters against each other. Once the match has begun, your character will act according to his or her AI Traits. Your rank will change based on the outcome of the match, and you will be rewarded with various items for reaching certain ranks that you can use in game.

Customize your samurai?s nickname, fighting stance and weapons using items won online.
Collect and use Spirit Spheres to upgrade your samurai?s attributes including health, stamina, attack power and defense.
Earn experience points in battle to unlock new attacks
Three difficulty levels: Easy, Medium or Difficult
Perform Instant Kills by mastering grapple moves and using the environment to your advantage
Edit your own range of diverse combo attacks.
Gorgeous high definition, next generation graphics employ light scattering, normal mapping and atmospheric subtleties
Follow your ranking on Xbox Live and become the best in the world.