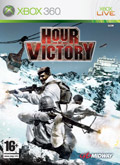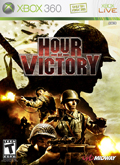 TITLE Hour of Victory
GENRE FPS
PLATFORM XBOX360
DEVELOPER Nfusion
US PUBLISHER Midway
UK PUBLISHER Midway
NORDIC PUBLISHER Midway
ONLINE PLAY Yes
Media Screenshots:
SCREENS ADDED: 11 Apr-2007
SCREENS ADDED: 26 Feb-2007
Videos:
Official Fact Sheet:
Hour of Victory allows you to play a key role in the pivotal and cinematic battles from the European and North African theaters of World War II, using the skills and gameplay style you choose. Sneak into enemy territory as a covert operative, storm the gates as a British Commando, or snipe from afar as an Army Ranger ? each character?s unique attributes will be needed for the fulfillment of the overall objective. Only with all these skills working closely together will you be able to say that you helped define the Hour of Victory.
Players can pick from a Covert Operative, specializing in stealth and sabotage; a British Commando specializing in the guns-blazing frontal assault; or an Army Ranger who specializes in sniping and demolitions.
Major Ambrose Taggert, American OSS Operative – Specialty: Infiltration Taggert specializes in silent kills, as he surprises his enemies with a cold blade before they even hear him. Hiding in the shadows or behind natural cover, Taggert's silent Sten gun helps conceal his location while dealing a deadly blow to the Germans.
Lieutenant William Ross, British SAS Commando – Specialty: Assault
Ross is a strong and dedicated soldier who wastes no time in engaging and destroying the enemy head on. Skillfull in frontal assault, the lieutenant will move objects out of his way if he has to, all the while with guns blazing.
Sergeant Calvin Blackbull, US Army Ranger – Specialty: Sniper
Sergeant Blackbull, also known as "Bull," is calm under pressure, able to hold his breath and take out his target from long range with deadly accuracy. Bull is nimble, able to jump long distances and climb obstacles that might slow other soldiers down.
Use any of the vehicles you find on the battlefield to accomplish your mission. From Sherman Tanks to the Axis Tiger Tanks to the Kubelwagons, if you can see it, you can drive it in Hour of Victory..
Hour of Victory blends authentic details and realism of World War II with frenetic gameplay. From the JU-88 Bombers in the sky to the Panzers in the streets, Hour of Victory bombards you from all angles.
Online multiplayer over Xbox Live
Developed using Unreal Engine 3.0 by nFusion, a tight-knit group of developers from New Jersey, whose military shooter experience includes titles such as Deadly Dozen and Line of Sight