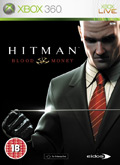 TITLE Hitman: Blood Money
GENRE Action
PLATFORM XBOX360
DEVELOPER IO Interactive
US PUBLISHER Eidos Interactive
UK PUBLISHER Eidos Interactive
NORDIC PUBLISHER Eidos Interactive
ONLINE PLAY No
Media Screenshots:
SCREENS ADDED: 10 May-2006
SCREENS ADDED: 03 Apr-2006
Videos:
Official Fact Sheet:
Hitman: Blood Money places gamers once again in the role of the world?s greatest assassin, Agent 47. When assassins from Agent 47?s contract killing firm, The ICA, are systematically eliminated in a series of hits, it seems a larger more powerful agency has entered the fray. Sensing that he may be the next target, Agent 47 travels to America, where he Prepares to Make a Killing.
Welcome to the USA: Agent 47 is heading to the U.S. making deadly stops in iconic locales such as Las Vegas, New Orleans, Los Angeles and Mississippi.
All-New Game Engine: Now with a number of new moves including the ability to create accidents and to dispose of bodies as well as a re-vamped NPC and AI system, the world of being an assassin has never been more realistic.
New Blood Money System: Use your hard-earned cash to bribe the press, keep your picture out of the morning paper. Or you can customize and upgrade your weapons to match your personal style of assassination. The choice is up to you.
Assassin Rivalry: Agent 47 is up against a rival agency of assassins competing to take out high-priced targets, and may even become the primary target himself.
Rookie Training: New to the world of assassinations? New rookie mode and levels of difficulty will give you all the training needed.
Environmental Danger: Drop a priceless chandelier or use a remote bomb all new accident system allows for more freedom in choosing the method for taking out the target.