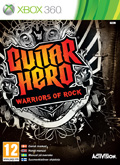 TITLE Guitar Hero: Warriors of Rock
GENRE Music
PLATFORM XBOX360
DEVELOPER Neversoft Interactive
US PUBLISHER Activision
UK PUBLISHER Activision
NORDIC PUBLISHER Activision
ONLINE PLAY Yes
Media Screenshots:
SCREENS ADDED: 30 Aug-2010
Videos:
Official Fact Sheet:
Guitar Hero: Warriors of Rock breathes new life into gamers' current Guitar Hero music libraries providing literally hundreds of hours of replayability with the introduction of Quickplay , which features 13 totally unique gameplay challenges for every on-disc track as well as most downloadable and importable songs from Guitar Hero World Tour forward. Gamers will complete challenges such as Band Streak, High Score and Power Challenge, which allows players to choose any two warrior powers they have unlocked to try and earn ridiculously high scores, to rank up and unlock more rewards and content than ever before. All-new Challenge Leaderboards have been created in order to capture the outrageous scores that are capable with Quickplay .
Delivering the largest on-disc rock music set list to-date, Guitar Hero: Warriors of Rock features more than 90 tracks that include guitar shredding hits from bands such as Black Sabbath, Megadeth and Slipknot and larger than life anthems from Queen, Muse and KISS. Additionally, Dave Mustaine of Megadeth wrote and recorded "Sudden Death," an original track for the game, which was inspired by Quest Mode's storyline. Along with original songs, the set list also includes special re-records by famous artists and tracks from bands that are making their music video game debut. The first songs off of Guitar Hero: Warriors of Rock's set list to be revealed are:
AFI – "Dancing Through Sunday"
Anthrax – "Indians"
Avenged Sevenfold – "Bat Country"
Black Sabbath – "Children Of The Grave"
Buzzcocks – "What Do I Get?"
Children Of Bodom – "If You Want Peace… Prepare For War"
The Cure – "Fascination Street"
Def Leppard – "Pour Some Sugar On Me (Live)"
Dethklok – "Bloodlines"
Dire Straits – "Money For Nothing"
DragonForce – "Fury of the Storm"
Drowning Pool – "Bodies"
Fall Out Boy – "Dance, Dance"
Foo Fighters – "No Way Back"
Foreigner – "Feels Like The First Time"
The Hives – "Tick Tick Boom"
Jane's Addiction – "Been Caught Stealing"
Jethro Tull – "Aqualung"
KISS – "Love Gun"
Linkin Park – "Bleed It Out"
Megadeth – "Sudden Death"
Metallica and Ozzy Osbourne – "Paranoid (Live)"
Muse – "Uprising"
My Chemical Romance – "I'm Not Okay (I Promise)"
Night Ranger – " (You Can Still) Rock In America"
Nine Inch Nails – "Wish"
The Offspring – "Self Esteem"
Queen – "Bohemian Rhapsody"
Rammstein – "Waidmanns Heil"
The Rolling Stones – "Stray Cat Blues"
Silversun Pickups – "There's No Secrets This Year"
Slayer – "Chemical Warfare"
Slipknot – "Psychosocial"
Stone Temple Pilots – "Interstate Love Song"
ZZ Top – "Sharp Dressed Man (Live)"