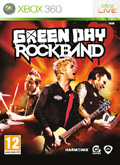 TITLE Green Day: Rock Band
GENRE Music
PLATFORM XBOX360
DEVELOPER Harmonix
US PUBLISHER Electronic Arts
UK PUBLISHER Electronic Arts
NORDIC PUBLISHER Electronic Arts
ONLINE PLAY Yes
Media Screenshots:
SCREENS ADDED: 16 Apr-2010
Videos:
Official Fact Sheet:
The Green Day: Rock Band track list includes a collection of greatest hits and fan favorites, including two of the band's most iconic albums: Dookie and American Idiot. A third album, 21st Century Breakdown, can also be played in its entirety when paired with the six tracks from that album already available as downloadable content in the Rock Band Music Store for Rock Band and Rock Band 2.
The 47 on-disc tracks are featured via three separate venues, each representing a different iconic period in the band's remarkable career including: The Warehouse: A fictional venue that captures the feel of early Green Day shows and performances.
Dookie (1994)
"Burnout"
"She"
"Having a Blast"
"Sassafrass Roots"
"Chump"
"When I Come Around"
"Longview"
"Coming Clean"
"Welcome to Paradise"
"Emenius Sleepus"
"Pulling Teeth"
"In the End"
"Basket Case"
"F.O.D."

American Idiot (2004)
"American Idiot"
"She's a Rebel"
"Jesus of Suburbia"
"Extraordinary Girl"
"Holiday"
"Letterbomb"
"Boulevard of Broken Dreams"
"Wake Me Up When September Ends"
"Are We the Waiting?"
"Homecoming"
"St. Jimmy"
"Whatsername"
"Give Me Novacaine"

Warning (2000)
"Minority"
"Warning"

Nimrod (1997)
"Hitchin' a Ride"
"Good Riddance (Time of Your Life)"
"Nice Guys Finish Last"

Insomniac (1995)
"Brain Stew"
"Jaded"
"Geek Stink Breath"

21st Century Breakdown (2009)
"Song of the Century"
"Viva La Gloria? (Little Girl)"
"21st Century Breakdown"
"Restless Heart Syndrome"
"Before the Lobotomy"
"Horseshoes and Handgrenades"
"Last Night on Earth"
"The Static Age"
"Peacemaker"
"American Eulogy"
"Murder City"
"See the Light"