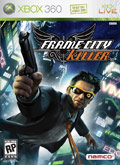 TITLE Frame City Killer
GENRE Action
PLATFORM XBOX360
DEVELOPER Namco Bandai
US PUBLISHER N/A
UK PUBLISHER N/A
NORDIC PUBLISHER N/A
ONLINE PLAY Yes
Media Screenshots:
SCREENS ADDED: 15 Sep-2005
SCREENS ADDED: 25 Jul-2005
Official Fact Sheet:
Frame City is a high-tech urban jungle in East Asia and the source of the deadly new age drug Visual Acid. Play as Crow, deep-cover agent posing as an assassin sent to eliminate Khan – the mysterious terrorist and kingpin of the Visual Acid syndicate. As a hit man, you must track and profile your targets to orchestrate the perfect hit. Acquire the right weapon, pay an informant, set up the hit. You?re in control – you decide how to carry out the mission. The more missions you complete, the closer you are to targeting Khan. Uncover the mystery and take out the criminal organization by any means necessary.
Formulate Your Own Hit Method: Take out the target with a bomb before he leaves home, or snipe the target with a rifle while he?s jogging, how you execute the contract is up to you.
Scan and Plan Hits: You choose the method of tracking and collecting information on your target to plan your hit. Use the Info Scan feature to pick up hidden information, talk to the target?s associates, intimidate thugs into coughing up information, or pay an informer. Map out a pattern in your target?s activities to plan the perfect hit.
"Sequential Kill" System: Utilize this system to devastate multiple enemies with a chain of attacks. Shoot, evade, and go hand-to-hand in one smooth attack combination that will instantly take out several enemies at once.
Intense, Immersive Environments: Experience different times of day and drive a variety of vehicles in realistic interactive environments. Dive for cover as bombs shatter windows and bullets tear through cars.
Cutting Edge Technology: Powered by the latest Unreal Engine Frame City Killer delivers unbelievably detailed visuals and palm-sweating challenges to even the most hardcore gamer.