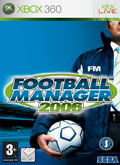 TITLE Football Manager 2006 (AKA Worldwide Soccer Manager 2006)
GENRE Sport
PLATFORM XBOX360
DEVELOPER Sports Interactive
US PUBLISHER N/A
UK PUBLISHER SEGA Europe
NORDIC PUBLISHER SEGA Europe
ONLINE PLAY No
Media Screenshots:
SCREENS ADDED: 09 Feb-2006
SCREENS ADDED: 19 Sep-2005
Official Fact Sheet:
At last, console gamers will be able to kickback and experience football management like never before! Football Manager 2006 for Xbox 360 weaves its way past the opposition and slots one into the back of an empty net. With, hundreds of divisions across 50 countries, 280,000 players and staff, the degree of depth is undeniable for even the most vocal of rival managers!
All the features that the Football Manager series is known for will be incorporated, including training, the revolutionary 2D match engine, full and accurate rules for all leagues and player data. Not only this, but Xbox Live allows brand new features not seen before in the series. Once again Football Manager has played a blinder, thrashing the opposition to raise the bar and reign supreme as champion of the management sims!
Xbox Live: Up to 16 player Xbox Live play, with 8 player leagues and 16 player cup competitions, including the ability to export your team from any time in the full manager mode for use online.
All new achievements section: Build your reputation and track your progress with a new achievement page that recognises all your accolades from clean sheets to league titles, allowing you to track your progress against other users.
2D Match engine: Ex-Liverpool and Republic Of Ireland legend Ray Houghton has provided his expert insight as part of Sports Interactive's wholesale improvement of every aspect of the match engine. Now matches are as real as it gets.
Team-talks: Use new half-time team talks to motivate individual players.You must decide whether to issue a rollicking or use the softly-softly approach to coax your side into putting in a better performance. At full-time you can address your players too, choosing your words carefully to avoid a backlash from huffy stars.
Tactics panel: Edit your team's individual tactics on a straightforward, single screen. You'll really feel as if you've got the players in a huddle while you dish out your instructions.
Referee profiles: Now the boys in black have profiles so you can see exactly how harsh they'll be. A league table of refs' performance will help you prepare your side to avoid strife with the man in the middle.
Media interaction: Reflecting the increasing importance of media in the modern game, Football Manager? 2006 uses a new 'player bio' system to generate thousands of news stories to flesh out the personalities in the game.There'll also be far more media hype and feedback from experts and fans through the Press in stories that go into more detail than ever before.